S Lanka leader visits north-east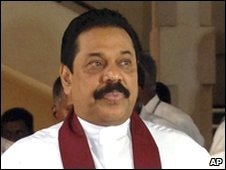 The President of Sri Lanka Mahinda Rajapaksa has made a symbolic visit to a key town captured from the Tamil Tiger rebels.
Kilinochchi was considered to be the rebels' headquarters until it was taken in January this year.
The government says it is the first time in nearly three decades that a Sri Lankan head of state has visited.
The army is again targeting rebels in a small area of land in the north-east after a brief ceasefire ended.
Trapped civilians
The defence ministry said this was a goodwill visit by the president to the town that was in rebel hands for 11 continuous years until its capture on 2 January.
BBC Colombo correspondent Charles Haviland says Kilinochchi is not large but has considerable symbolic importance. At the time it changed hands, all the civilians had left.
The ministry said that President Rajapaksa visited troops and internally displaced people.
The government also said its troops had continued their offensive on the small patch of territory still controlled by the Tamil Tigers, killing more than a dozen rebels.
The Tigers are restricted to a 20 sq km (12.4 sq miles) coastal patch that the government has designated a "safe zone" for civilians.
The United Nations says 100,000 Tamil civilians are trapped inside the pocket. The government disputes the figure.
The pro-rebel TamilNet web site says the Sri Lankan army is deploying "maximum fire power", including helicopter gunships, to disrupt Tamil Tiger defences.
Earlier on Thursday, a joint statement by the British and French foreign ministers accused the Tigers of "forcefully preventing" ordinary people from leaving the conflict area during the pause in the government offensive on Monday and Tuesday.
They urged the government to halt the fighting for longer.
The Tigers deny holding civilians as human shields and say people do not want to leave the area as they fear the military.
The Tigers have been fighting for a separate state for Tamils in the north and east of Sri Lanka since the 1970s.
(For updates you can share with your friends, follow TNN on Facebook, Twitter and Google+)