Sri Lanka advances on rebels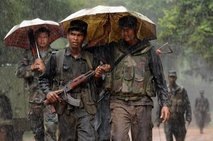 Sri Lanka said Thursday it had made fresh advances into the area still held by Tamil Tiger rebels, ignoring global calls for a truce to rescue thousands of civilians trapped by the fighting.
Arguing the civilians were being used as a human shield, the island's defence ministry said its forces were engaged in what it said was "the world's largest hostage rescue operation undertaken by a conventional armed force in modern times."
The Tigers are hemmed into a narrow strip of northeastern coast, where up to 100,000 civilians are also holed up.
According to the pro-rebel website Tamilnet, ground troops backed by helicopter gunships were "deploying maximum fire power" in an attempt to breach rebel defences.
The Liberation Tigers of Tamil Eelam (LTTE) have retreated into a 20-square kilometre area that the government had designated as a "safe zone" for beleaguered civilians, and remnants of the rebel army are still resisting.
The United Nations has said both sides in the long-running ethnic war may be guilty of war crimes, with the government accused of shelling civilian areas and the Tigers of keeping people hostage.
On Wednesday, Britain and France added their voices to a wave of international condemnation of the LTTE — but also urged the island's hawkish President Mahinda Rajapakse to agree a ceasefire.
"It is clear that the LTTE have been forcefully preventing civilians from leaving the conflict area and we deplore their determination to use civilians as a human shield," British Foreign Secretary David Miliband and his French counterpart Bernard Kouchner said in a joint statement.
"We urge President Rajapakse to announce a new pause," it said, adding that "democratic governments are rightly held to higher standards for civilian protection than terrorist organisations."
Rajapakse had ordered a two-day ceasefire earlier this week to mark the traditional New Year, but dismissed a rebel offer of a permanent truce as an attempt to regroup after a string of recent defeats.
And on Thursday, he made a symbolic flying visit to the LTTE's former political capital Kilinochchi, which fell into government hands in January after nearly two years of intense fighting, his office said.
It was the first visit to the area by a Sri Lankan head of state in nearly 30 years, and underscores the determination of the government to pull the island together after decades of ethnic war.
This week the government also sacked Norway as the island's peace broker, officially turning the page on a decade of internationally-backed efforts to end a war that has cost an estimated 70,000 lives.
(For updates you can share with your friends, follow TNN on Facebook, Twitter and Google+)