Sri Lanka Tamil rebels criticised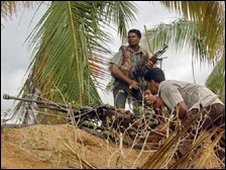 Britain and France have released a joint statement criticising the alleged use of human shields by Tamil Tiger rebels in Sri Lanka.
The two foreign ministers said the rebels had clearly been "forcefully preventing civilians from leaving" during a recent 48-hour ceasefire.
They said the truce had not been long enough to allow civilians to safely leave the conflict zone.
Earlier, the UN's head of humanitarian affairs also condemned the situation.
John Holmes accused the Liberation Tigers of Tamil Eelam (LTTE) of trapping 100,000 civilians in the war zone during the ceasefire, saying they had been "actively prevented" from leaving.
British Foreign Secretary David Miliband and his French counterpart, Bernard Kouchner, called on the Sri Lankan government to announce a new ceasefire.
They said they were "deeply concerned that there was no large scale movement of civilians away from the conflict area to safety as we had hoped to see".
"It is clear that the LTTE have been forcefully preventing civilians from leaving the conflict area and we deplore their determination to use civilians as a human shield," they said.
The ministers also repeated their insistence that the LTTE must "renounce terrorism and lay down their arms as a necessary element for a long-term solution" to the conflict.
'Hoodwink'
The government announced a unilateral ceasefire in the conflict-hit north-east of the country starting on Monday and ending late on Wednesday, to coincide with the Sri Lankan New Year.
They asked civilians trapped inside the war zone to move out, but only a few hundred responded to the call.
The LTTE had said the ceasefire was an "act of hoodwink" designed to deceive the international community.
They said there should be an internationally supervised truce, paving the way for political solutions.
The Tigers have been fighting for a separate state for Tamils in the north and east of Sri Lanka since the 1970s.
(For updates you can share with your friends, follow TNN on Facebook, Twitter and Google+)