Tamil hunger striker 'prepared to die' in London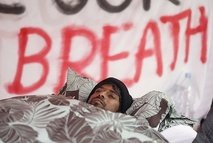 A Sri Lankan hunger striker in London who has gone ten days without food said Thursday he was prepared to starve himself death to highlight the plight of Tamils, as hundreds of people protested.
Paramesweran Subramaniyam, 28, is surviving on sips of water and his condition could soon become critical, doctors say.
But he says death is a price he would pay to force the British government to intervene in the conflict.
Asked how long he was willing to continue his hunger strike, he said, "Until I die or when I get my demands.
"More than me, my country, my people are suffering from the war so for me, it's nothing," he added.
The Sri Lankan government is advancing into an area in the northeast of the country where up to 100,000 civilians are trapped with Tamil Tiger rebels, according to the United Nations. Colombo says the rebels are using the civilians as human shields.
As Subramaniyam lay starving himself in a makeshift tent pitched directly opposite the Houses of Parliament, several hundred people around him kept up a peaceful protest which has been going for some ten days.
They chanted and held up banners with slogans like "Tamils Want Freedom, Tamils Want Justice" and "Ceasefire! Ceasefire!! Now."
The protesters want Britain, the former colonial power, to intervene to bring about an immediate and permanent ceasefire.
Demonstrator Raji Nesa, 20, urged the government to listen to their message.
"There are signs that he's going to slip into a coma soon because he's not drinking the recommended amount of water and he's not eating," she said.
Volunteer Tamil doctors are monitoring Subramaniyam around the clock. One, who did not want to give his name because his father is still in Sri Lanka, described his condition as "not very good".
"His fluid intake is very low, his fluid output is proportionate. He's not drinking enough water," he told AFP.
(For updates you can share with your friends, follow TNN on Facebook, Twitter and Google+)