Lankan troops kill 100 Tamils a day
"IT was like dying again and again, each day," says Arumugham (name changed), dignified but still traumatised by the four months his family spent in Sri Lanka's "Safe Zone" at Puthukudiyiruppu. They were among 13 people who, on the morning of March 21, escaped from the narrow strip of sand that is the No Fire Zone (NFZ).
They slipped out to shore and crept into a boat with just the essenti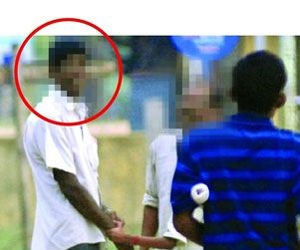 als, and set off for India. "If we lived, we lived; if we perished, so be it," he says. They only feared capture by the Sri Lankan Navy and being sent to the Vavuniya camp. "The family would have been separated and conditions are bad." Bad enough to risk the journey from Puthukudiyiruppu to Nagapattinam, where they landed the next day, close to the Velankanni shrine. "Others must have tried to escape before", but only Arumugham and his companions have made it, so far.
Till December, Arumugham's life in Mullaitivu was normal barring the odd shelling. In December, like others from the northern districts he moved to the Lankan-declared Safe Zones. "We packed our belongings into a tractor. But then news came of the shelling and we left them behind." Gold, money, clothes and rice, and the tarpaulin sheets given by aid agencies. "The tarpaulin was perhaps most important. Without it, there was the risk of shrapnel entering the bunker and injuring the families." His family moved to Vallipuram and there began the nightmare.
Life in a bunker
"The army frequently shelled us. In Thevipuram, we once woke up to find two people dead at the bunker's entrance." What Arumugham describes as a bunker was more of a trench. At each Safe Zone location they stayed, Arumugham's family's first task was to dig a hole in the ground. Stumps and rope to hold up the tarpaulin, and other material to cover it, would all cost money.
"Those who couldn't afford even the tarpaulin had to make do with just the hole." Eventually, the family made it to Mattalan, one of the four NFZ villages located on a strip of land eight kms long and half a mile wide, between the sea and a lagoon. "Across from the lagoon were the army. Sometimes with high tide the bunkers would get flooded." But flooding was a minor concern.
"There were no sanitation facilities; we had to go to the seashore. We dug near palm trees for water and had few food or medical options." And there was the shelling. "A family of eight was killed when a shell hit the bunker." At times, fear of the shelling kept Arumugham in his bunker for three days at a stretch.
There were only five doctors for nearly three lakh people (earlier estimates were 4.3 lakh, but Arumugham says some fled to the Army's side). "The hospital was actually a primary school.
There were no medicines and amputations were the priority, done without anaesthetics. A panadol pill cost Rs 10." Drips hung from trees.
Arumugham once took a friend, bleeding from shrapnel lodged in his skull, to hospital. "They couldn't do anything.
The nurse dressed his wounds."
Eating to live
"We were lucky we carried some rice.
Others received only government wheat flour. There were no vegetables. I didn't see vegetables till we reached India." Shortages pushed up food prices; those without money had to barter their belongings or gold. "Soya 'meat' sold at Rs 6,000 a kilo. People traded one gold sovereign for a kilo. Dal was available, but chilli cost Rs 5,000 a kilo. A coconut was Rs 250, a kilo of rice Rs 200, and a kilo of fish Rs 1,500. And this was in March. The prices must have risen since."
Dying little deaths
In one NFZ location, shelling began as soon as they reached. "We hadn't even dug the bunker. We jumped into a nearby canal. When it stopped, people carried away a man who had lost his hands." Among the images that have stayed: Two women chatting and seconds later their heads blown off; a nephew hit while digging, his father shot the next morning while moving out.
"At Mattalan, I dug the bunker and went for some material. The shelling started and I fell. When it stopped I ran back. My children were lying at the bottom, wailing, 'we don't want to be here anymore'." "A woman screamed for her husband.
He was hit by a shell and before she could turn to him, people had dragged her away to save her life. She was screaming, crying.
She couldn't even see her husband's body." Once dead, survivors could only dig a shallow grave, cover the bodies and move on.
"The army was firing at us and their guns could fell several people with each round. With the shelling we could hear the launch and run for shelter. But with the firing there was no warning." "Every day, 50 to 100 people must have died. The hospital was full. After a point, I couldn't take it, my mouth was constantly dry. I couldn't eat. I wasn't well.
We needed to leave, come what may," he sighed. "It was like nothing we had seen before. The last thing on this scale was the tsunami."
The Tiger threat
Though the Tigers are believed to be hiding on the same strip, Arumugham claimed they posed little threat. "They took some civilians when they retreated but most of us came voluntarily as we were told it would be a Safe Zone. We only feared the Tigers would start recruiting our children." Most refugees want to return home someday. Not Arumugham. "Even the people from Jaffna have not been rehabilitated.
It will take years to settle down.
(For updates you can share with your friends, follow TNN on Facebook, Twitter and Google+)