UN tacitly backing SLanka offensive: Tamil rebels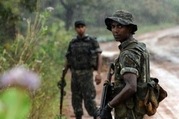 Sri Lanka's Tamil Tigers believe the United Nations and foreign governments are tacitly supporting a military offensive that risks the lives of civilians, according to a pro-rebel website.
amilnet.com said accusing Tiger rebels of holding civilians hostage in the conflict zone was a signal that the international community supported Colombo's preparations for a final assault against the remaining guerrillas in the long-running ethnic war.
"All witnesses out, international community winking, India abetting and international media failing in its duty, the civilian massacre and subjugation can be completed with much ease," the website said.
The report came as UN chief Ban Ki-moon sent a top aide to Sri Lanka to try to ease the plight of tens of thousands of civilians trapped by fighting between government forces and the Tamil Tigers in the northeast of the island.
Vijay Nambiar, Ban's chief of staff, arrived here Thursday and was due to meet with President Mahinda Rajapakse, officials said.
"The secretary general is doing his utmost to alleviate the situation in Sri Lanka and high-level contacts were continuing to be pursued on that matter," a UN statement said.
Sri Lanka has rejected calls by the UN and others to extend a 48-hour unilateral ceasefire that ended on Wednesday. The government said the pause in fighting was to allow civilians in the conflict zone to get out.
"The Liberation Tigers of Tamil Eelam (LTTE) did not appear to have responded constructively in allowing civilians to leave (during the ceasefire)," UN spokesman Farhan Haq said in New York.
"This is truly disappointing. Civilians must be allowed to leave the area of violence. They must not be used as targets of political or military designs."
According to UN estimates, 100,000 civilians are trapped in a government-designated "no-fire zone," which is the last remaining territory held by the rebels who are fighting for a separate Tamil homeland.
(For updates you can share with your friends, follow TNN on Facebook, Twitter and Google+)