Bharatiraja warns of protest by film fraternity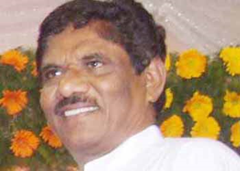 However raised the protesting voices are, Rajapakshe does not seem to be hearing anything. "Murder mad hyna after the blood of the Eelam Tamils," are some of the acusations levelled at him.
Women writers in Tamil have also formed a group called 'Women's movement against destruction of Eelam Tamil culture' and they are conducting their protests. They are holding a hunger strike at MDMK headquarters asking Sonia Gandhi to help stop the war in Srilanka.
The fast eneters the fifth day. Directors Bharatiraja, Manivannan, Ameer, Sundarrajan, manobala, actor Sathyaraj and writer VC Guhanathan met them and conveyed their blessings. Bharatiraja spoke to the press.
"If Sonia Gandhi puts her mind to it, she can stop the war in Srilanka. But she has done nothing towards it. When she comes to Chennai on 20th, she has to come with the news of stoping the war.
DIVIDER]
If she does not, the next day of tuesday, the big screen and small screen artistes will go on hunger strike," he said with flashing eyes.
Dailynews – Bharatiraja warns of protest by film fraternity
(For updates you can share with your friends, follow TNN on Facebook, Twitter and Google+)