French organisations vote and unanimously support Eezham Tamil independence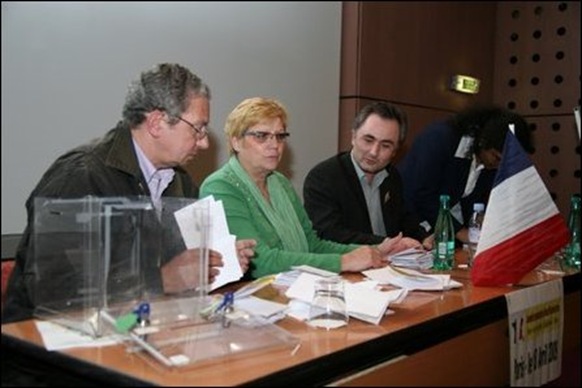 Exercising their right of free expression, 67 registered social welfare organisations of diaspora Tamils in France, took a pioneering democratic step of secret ballot on Saturday and unanimously declared support to the independence war of Eezham Tamils in the island of Sri Lanka, said Ki Pi Aravinthan in Paris to TamilNet. The Paris declaration read that in supporting the cause of Eezham Tamils, it has infallibly adopted the will and spirit of the Vaddukkoaddai Declaration of 1976 that was overwhelmingly mandated by Tamil voters in 1977, and was in line with the ideology behind the declaration of American independence, the Republic of France in 1789 and the UN human rights declaration of 1948.
Two representatives from each of the organisations participated in the deliberations. Each organisation had a single vote.
The secret voting was presided over, counted and declared by three local government dignitaries, Mr. Serge Setterahmane, Adjoint au Maire (Deputy Mayor), Clichy la Garenne, Mme. Mireille Gitton, Adjoint au Maire (Deputy Mayor), Clichy la Garenne and Mr. David Fabre, Conseiller, Savigny sur Orge.
Mr David Joseph of British Tamil Forum and Edward Sebastiampillai, a former Member of Parliament of Sri Lanka were special observers for the occasion.
The results of the deliberations and the declaration will be sent to the President of France and to the ministries of foreign affairs and home affairs, the organizers said.
Talking on the significance of the mandate and the declaration, Mr. Aravinthan said that it democratically marks the phase of a new synthesis of components of the independence war: the will of the concerned people, the will of their diaspora and the armed struggle ensuing as a consequence of failure of all other means.
The Eezham Tamil diaspora rightfully has a say in this matter, as they are largely people who were forced to leave due to events followed the Tamil-rejected constitution of 1972 and the Tamil mandate for self-determination in 1977, Aravinthan said.
No democratic space was provided to Tamils by any government after 1977 for the free expression of their will on the national question. All subsequent elections took place under Prevention of Terrorism Act (PTA) of 1978 and after constitutionally banning secession by the Sixth Amendment in 1983, he observed.
As one cannot foresee any free elections taking place for Tamils to express their will for nationhood in the current scenario of the island, the stakeholders outside have a duty in upholding space for free mandate, through transparent democratic means, verifiable by the international community, Aravinthan said.
In his observation, the Paris meet of registered organisations in France for a secret ballot supervised by neutral observers was in a way an experiment in the line of electoral colleges.
The diaspora has to creatively adopt credible and democratic ways and means to mobilise the will and free expression of Eezham Tamils all over the world, said Aravithan, a former militant of 1970s and the only surviving associate of Sivakumaran, the pioneer of Tamil militancy.
Full text of the Paris declaration in French follows:
Assemblée des représentants des Tamouls d'Eelam vivant en France.
Réunie à Paris, le 18 avril 2009.
Déclaration solennelle des associations tamoules établies en France.
Au fil de l'histoire de l'humanité, les peuples assoiffés de liberté et d'indépendance ont déclaré au monde qu'ils étaient souverains et ont mené des combats en vue d'établir des gouvernements souverains pour décider librement de leur sort.
En 1977, le peuple tamoul du Sri Lanka, aspirant à devenir indépendant et par le truchement de ses représentants démocratiquement élus, a déclaré au monde qu'il était désormais souverain et qu'il avait décidé établir un Etat séparé pour lui. C'était l'événement fondateur de la lutte d'indépendance tamoule au Sri Lanka.
A un moment crucial de notre histoire, nous, les représentants délégués des associations tamoules établies en France, réunis à Paris en assemblée à ce jour du 18 avril 2009, par devoir et usant notre liberté d'expression, déclarons solennellement ce qui suit :
Ayant présent à l'esprit le principe fondateur de la déclaration d'indépendance américaine, à savoir :
« Lorsque dans le cours des événements humains, il devient nécessaire pour un peuple de dissoudre les liens politiques qui l'ont attaché à un autre et de prendre, parmi les puissances de la Terre, la place séparée et égale à laquelle les lois de la nature et du Dieu de la nature lui donnent droit, le respect dû à l'opinion de l'humanité oblige à déclarer les causes qui le déterminent à la séparation.
Nous tenons pour évidentes pour elles-mêmes les vérités suivantes : tous les hommes sont créés égaux ; ils sont doués par le Créateur de certains droits inaliénables; parmi ces droits se trouvent la vie, la liberté et la recherche du bonheur. Les gouvernements sont établis parmi les hommes pour garantir ces droits, et leur juste pouvoir émane du consentement des gouvernés. Toutes les fois qu'une forme de gouvernement devient destructive de ce but, le peuple a le droit de la changer ou de l'abolir et d'établir un nouveau gouvernement, en le fondant sur les principes et en l'organisant en la forme qui lui paraîtront les plus propres à lui donner la sûreté et le bonheur. ».
Ayant également présent à l'esprit la déclaration des Droits de l'Homme et du citoyen du 26 août 1789, et la déclaration universelle des Droits de l'Homme des Nation Unies du 10 décembre 1948,
Et nous rappelant que la résolution politique de Vaddukkoddai, adoptée à l'unanimité par le Front Tamoul Uni de Libération, dit TULF, le 14 mai 1976 , a été présentée pour le plébiscite devant le peuple tamoul du Sri Lanka lors des élections démocratiques de 1977, et a recueilli 82% de voix favorables,
Nous, les représentants délégués des associations tamoules établies en France, déclarons que le résultat de ce plébiscite était la volonté manifestée du Peuple Tamoul du Sri Lanka pour son émancipation en tant que Nation Libre avec le droit à l'autodétermination,
Nous proclamons que le Peuple Tamoul du Sri Lanka, ayant épuisé tous les moyens pacifiques et démocratiques pour atteindre son but de conquérir l'égalité des citoyens, a plébiscité, lors de ces élections, le déclenchement de la lutte résolue jusqu'à la victoire finale,
Nous, les représentants délégués des associations tamoules établies en France, reconnaissons que nos concitoyens tamouls du Sri Lanka, soumis à la dictature militaire du gouvernement sri lankais sont privés, du droit à l'expression libre,
Nous déclarons, par conséquent, qu'il est de notre droit et, surtout, de notre devoir, d'agir en leur nom et de faire entendre leur voix oppressée à la communauté internationale,
Nous déclarons au nom du peuple tamoul qui a plébiscité la résolution de Vaddukkoddaï, que nous sommes infailliblement solidaires de la lutte d'indépendance menée par les Forces Tamoules sur la terre tamoule en vue de la libérer de l'occupation militaire,
Nous déclarons que la volonté d'indépendance du peuple tamoul, démocratiquement exprimée en 1977, est encore actuelle et légitime,
Nous appelons, enfin, la communauté internationale, à être garante de cette volonté légitime et à œuvrer en vue d'établir une solution politique sans transgresser l'esprit de la résolution de Vaddukkoddaï.
Nous, les représentants délégués des associations tamouls établies en France, dûment et démocratiquement délégués par nos assemblées respectives qui ont, après discussion, approuvé démocratiquement l'intégralité du contenu de la présente déclaration, la signons au nom de nos associations.
(For updates you can share with your friends, follow TNN on Facebook, Twitter and Google+)