Mass Tamil exodus from rebel area
Sri Lanka says 63,000 Tamil civilians have escaped from the last remaining area of territory held by Tamil Tiger rebels in the past two days.
The army said it had made further inroads into the small area in the north, searching for the rebel leader.
It said some civilians fled by sea and were met by the navy. They were being transferred to government-run camps.
The rebels alleged the army had killed about 1,000 civilians in the latest fighting. There is no confirmation.
The rebels also said that about 2,300 civilians have been injured since Monday morning, and accused the government of using Tamil people as human shields and forcing them to clear landmines.
A deadline for the rebels to surrender or face a final assault expired at 0630 GMT on Tuesday with no word from the Tigers.
The head of the Sri Lankan army, Lt Gen Sarath Fonseka, told the BBC Sinhala service that troops know the "general area" of Tamil Tiger leader Velupillai Prabhakaran and that "action will be taken to destroy him".
"We do not know exactly the place where he is hiding, but we suspect he is most probably hiding among the civilians, trying to take cover behind them.
"Therefore we have to be very careful about what action we take to ensure that no civilians get harmed."
Rebel leader Prabhakaran was hiding in coastal strip about 8km long and 1.5km wide, Lt Gen Fonseka said.
Troops believe he could try to escape the war zone by boat, a method used by other rebel leaders.
There is no media access to the area, so it is difficult to interpret the parallel propaganda war, says the BBC's Charles Haviland in Colombo.
The general said only 300-400 Tamil Tiger fighters remained, but there may be 700 "forcibly armed" people in rebel bunkers.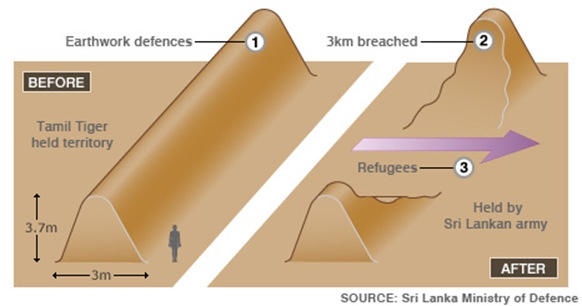 Sri Lankan military spokesman Brigadier Udaya Nanayakkara told the BBC's Newshour programme that the army had rescued the civilians after breaking down earthen defences, rather than forcing them to flee amid fighting, as suggested by the rebels.
We went in and people came towards us and we rescued them and [have] taken them to a better location, where they can have a better life than what they had in this safety zone under the LTTE [Tamil Tiger rebels]."
He dismissed any suggestion that international assistance would help resolve the conflict.
Brig Nanayakkara said: "This is our problem and we will sort out our problem."
Sri Lankan President Mahinda Rajapaksa also rejected international offers, telling British Prime Minister Gordon Brown that there was no need to send a special envoy and a pause in fighting was not necessary.
"President Rajapaksa observed that this movement of civilians had evoked a completely new situation and he had instructed that additional consignments of food, medicine and other essentials be dispatched," a government statement said.
Gordon Weiss, the UN spokesman in Sri Lanka, said it was not known how many civilians remained there but that the UN had been working off a figure of some 150,000 to 200,000 people in recent months.
'Catastrophic' situation
The International Committee of the Red Cross (ICRC) said it was "extremely worried" about civilians still trapped in the zone.
"The situation is nothing short of catastrophic. Ongoing fighting has killed or wounded hundreds of civilians who have only minimal access to medical care," said director of operations Pierre Kraehenbuehl.
The rebel TamilNet website said the territory they still controlled was littered with bodies of civilians.
Video released by Tiger supporters shows mutilated bodies, but it is not clear when the recording was made.
(For updates you can share with your friends, follow TNN on Facebook, Twitter and Google+)