Tamils blockade London's Parliament Square
 Thousands gathered around Parameswaran Subramaniyan's tent early Monday morning demanding the British Government to take immediate action against the carnage of Tamils in Sri Lanka to avoid another Tamil life being forsaken at Parliament Square in London, according to sources in London. Parameswaran, 28, on his 14th day of hunger strike, reiterated his calls to the British Government to impose for urgent ceasefire in Sri Lanka. Doctors by his side reported that his condition is critically weak. Dr Arundkumar Velauthapillai said "His condition is deteriorating rapidly. He is not taking enough water but he is stable for now."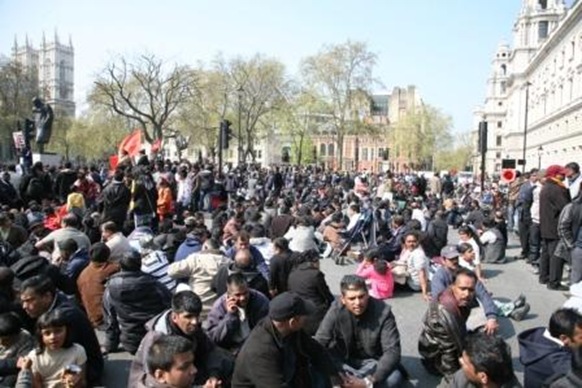 As news began to spread of the Sri Lankan military's onslaught on the "Safe-Zone," in an assault to force civilians to flee the area, the crowds at Westminster began to push through the police cordons and onto the roads surrounding Parliament Square. Parliamentarians returning back from the Easter recess were welcomed by blocked roads and diverted traffic. The police have said that no one had been arrested.
Mainstream media returned to the Square to cover the spontaneous blockade of the roads, as they had done so two weeks prior, sources in London said.
The British Tamils stood firm, vowing that they would not be moved until immediate and permanent ceasefire was implemented in Sri Lanka, according to witnesses at the scene.
The Foreign Secretary, David Miliband, had released a statement at the weekend expressing "grave concern" for the civilians caught in the conflict and restated his calls for an immediate ceasefire in Sri Lanka. However, the Government of Sri Lanka has continued to reject calls for ceasefire.
A University students' representative, Siva, said "The blocking of roads was not organised by the students. This is the people's reaction to what has happened in Vanni today. The students have remained within the permitted area."
A group of students were invited to the London Mayor's Office by Mayor Boris Johnson, to discuss the current issues in Sri Lanka. Mayor Johnson listened to the concerns of the students regarding the current dire situation facing Tamils in Sri Lanka and offered his support. He expressed great sympathy with the Tamils and regrettably said he was only able to offer support within his authority in the UK but spoke encouragingly of the recent non-violent protests by the students, Siva said.
The demonstrators have managed to block some of London's busiest roads for most of the day and yet remain prepared to stay until the much needed urgent action is taken, organizers at the protest said.
(For updates you can share with your friends, follow TNN on Facebook, Twitter and Google+)