Padma Shri Vivek!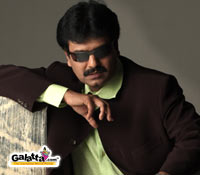 It is good news, a moment of pride and prestige for Tamil moviedom when Vivek, one of the most-admired comedians in Kollywood was awarded the Padma Shri. Congratulations, Vivek!
Looking back (going into flashback, you know), this graduate from American College, Madurai, entered the movie scene through 'Iyakkunar Imayam' K.Balachander's Manathil Uruthi Vendum. Even in his debut, Vivek made audiences sit up and take notice of his rendition and from there began his remarkable journey.
Initially, Vivek followed the usual comic route as hero's aide and played the allotted side track; however, he made it enjoyable through his punchy additions and timely deliveries. After he gained substantial recognition and star status, he started enacting his tracks in his exclusive style. He earned the liberty to pen his own tracks and wrote his parts featuring current affairs and popular personalities. Anniyan, Sivaji, University, Perazhagan, Saami, M.Kumaran s/o Mahalakshmi are some of his best films. Right from Superstar Rajinikanth to leading political figures, everyone has been the butt of his comedy. Along with the wisecracks came worthy messages too.
Vivek has been awarded the prestigious Padma Shri exactly for this reason. The actor prefers to continue his style of message-oriented comedy; it is his way to repay the society that has given him name and fame. He is also looking forward to playing lead roles in movies;
(For updates you can share with your friends, follow TNN on Facebook, Twitter and Google+)