World disappointed with Sri Lanka: Clinton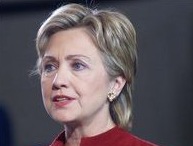 With the LTTE almost decimated, US today expressed disappointment with the Sri Lankan government for the current humanitarian crisis.
"I think the Sri Lankan government knows that the entire world is very disappointed, that in its efforts to end what it sees as 25 years of conflict, it is causing such untold suffering," US Secretary of State Hillary Clinton said in her appearance before the House Committee on Foreign Affairs.
Terming the current situation in Sri Lanka as "a terrible humanitarian tragedy" Clinton said that the US has been pressing the Sri Lankan government for a halt in the fighting so that "we could secure a safe passage for as many of the trapped civilians as possible".
"We have made it clear that as soon as there is some lull in the fighting or an end to the fighting there has to be not only massive humanitarian aid, but a political resolution," Clinton said.
"The people who have been waging this internal insurgency for all these years are going to have to be brought into the political process in some way,"
(For updates you can share with your friends, follow TNN on Facebook, Twitter and Google+)