Bharathiraja to return his Padmashree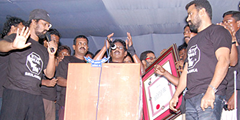 In a strike that saw many zealot Tamilians from the film fraternity speak against the government for not curbing the killing of tamils in Lanka, director Bharathiraja returned the Padmashree award conferred on him in 2004.
The strike, organized by the Tamil film fraternity, was held at South Indian Film Chamber Theatre on Thursday, April 23, and saw many film actors and directors, Bharathiraja, Sathyaraj, Cheran, Ameer, lyricist Thamarai and so on, speak about the Eelam killing.
And in a bid to condemn the government for its inaction about the issue, he displayed his Padmashree and announced that he had made arrangements for it to be sent back to the government to insult it. He even considered breaking it, instead of returning it, but later opted to return it and insult them.
But that was not all. Those present also warned Sonia Gandhi, Manmohan Singh and Pranab Mukherjee against coming to Chennai as not even their shadow would be by their side if they dared to come here and seek votes.
(For updates you can share with your friends, follow TNN on Facebook, Twitter and Google+)