Plans afoot to establish SLA concentration village in Kodikaamam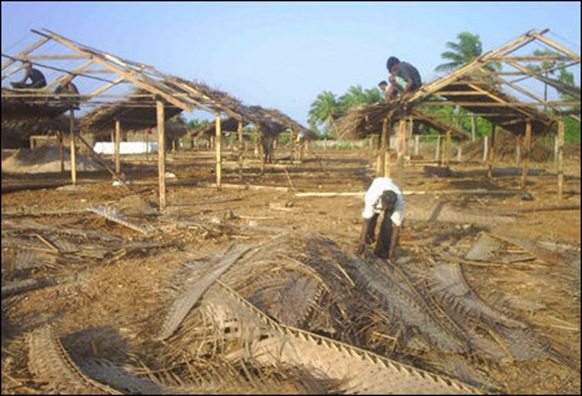 Sri Lanka Army (SLA) authorities have instructed Jaffna Government Agent to have the mines sown in SLA 55th Division main artillery base located at Kodikaamam in Thenmaraadchi removed as the first step to hold nearly eleven thousand Vanni civilians, now held in various SLA detention centres in Jaffna, Jaffna Secretariat sources said. Danish Demining Organization (DDO) has already begun clearing land mines and the debris from artillery and Multi-barrel Rocket Launcher (MBRL) fire, the sources said.
A big village complex with houses, schools, shops, drinking water facilities and toilets is to be established in the Kodikaamam SLA main artillery base situated in an area around one thousand acres in the triangular land lying between A9 road, Chaavakachcheari-Kodikaamam road and Kachchai-Kodikaamam road.
The civilians brought from Vanni are to be held in this village complex for a period of three to five years, the sources added.
DDO which had been forced to cut down its employees due to lack of funds have now reinstated nearly 60, and have begun the demining in Kodikaamam SLA artillery main base.
Around 124 employees are engaged in demining activities.
Meanwhile, 1250 civilians from Vanni held in Thenmaraadchi SLA detention centres have been relocated Thursday and Friday to Nelliyadi Maththiya Maha Viththiyalayam in Point Pedro.
Government officials are making arrangements to meet the needs of the replaced civilians, according to civil society sources.
Besides, NGOs in Jaffna are engaged in constructing structures to house the civilians brought from Vanni in Kaithadi area, sources in Jaffna said.
(For updates you can share with your friends, follow TNN on Facebook, Twitter and Google+)