Colombo wanted to hide forced displacement of Tamils – Vithiyatharan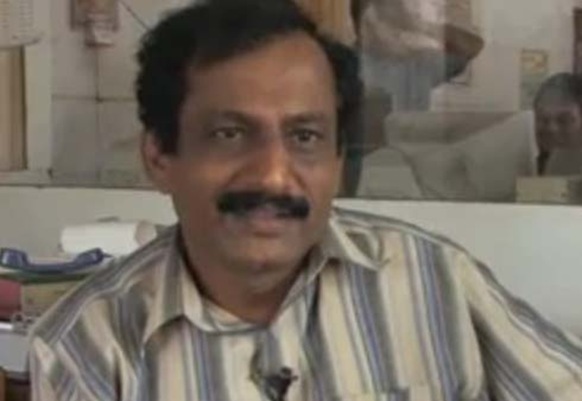 "The real reason for my arrest was to prevent me from publishing news on the forced displacement of Tamils, its impacts and about the significance of Tamils' representation in Western Provincial Council elections," Nadesapillai Vithiyatharan, the Chief Editor of the Tamil daily Sudaroli, who was 'abducted' and later claimed as 'arrested' by the Sri Lankan Terrorist Investigation Division (TID), said, after being released by Colombo Magistrate Court Friday, in a media report Friday in Colombo. "I was abducted on the final day of submission of nominations to the Western Provincial Council Election, Vithiyatharan said in the report.
SBS Report: Short clip of Vidyadaran, Gotabaya
SBS Report: Hunting the Tigers
The following is the excerpt of the media report:
"Though I had been interrogated by State Intelligence Service (SIC), Colombo Crime Division (CCD), Secret Police (SP) and Directorate Military Investigation (DMI), they had failed to prove that I had any connections with the Liberation Tigers of Tamil Eelam."
"I had been detained in Demotagoda CCD for the last two months accusing me of having had phone conversation with LTTE key persons on 20 February, the day the LTTE launched an air strike on Colombo, but this was not the true reason for my arrest and detention," he said.
"The white van abductors had smashed my mobile phone inside the van, destroying the sim card in it. How could they prove that I have had phone conversation with the LTTE persons with my broken mobile phone?" he further said.
"Senior police officers had told the media that I had been abducted only after this incident" he added.
"This proves that my abduction and arrest was a pre-planned affair to black out the situation of Tamils being forcibly displaced and to prevent me from airing my views on Tamils representation in the Western Provincial Council elections. This is the truth." Vithiyatharan explained in the report.
"While I was forcibly taken from Mt.Lavinia funeral parlour I was blind-folded and severely assaulted. After two hours of severe torture, Crime Division Branch in Demetagoda took me into their custody and that too after I had been dumped on the road by the abductors," he further said.
"It was only then I was treated decently, by the police officers in Demetagoda and I am thankful to them," he added.
"My bank account details and my wife's were inspected and all my personal information was thoroughly investigated. Yet, they were not able to prove anything against me."
CCD police station officer-in-charge, Jeyathilaka, produced Vithiyatharan in Colombo Magistrate Court and Attroney-at-law Ms. Gowry Thavarjah appeared on behalf of Vithiyatharan.
The prosecuting officer told the court that there was no evidence to prove that the defendant had connections with the LTTE and the magistrate issued the verdict that the accused was innocent and released him.
Meanwhile, Gothabaya Rajapakse, Sri Lanka Defence Secretary, had maintained that whoever spoke on behalf of Vithiyatharan has blood on his hands in an interview to SBS Australia at the time of Vithiyatharan's arrest.
(For updates you can share with your friends, follow TNN on Facebook, Twitter and Google+)