UN envoy makes Sri Lanka aid push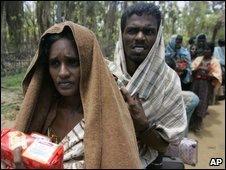 The UN's top humanitarian official has arrived in Sri Lanka to push for greater protection of civilians caught up in the conflict in the north-east.
The official, John Holmes, has urged a ceasefire between the army and Tamil Tiger rebels to allow aid agencies access to civilians in the war zone.
He said there had been a high rate of casualties among civilians and their situation was "very dire".
The UN says more than 160,000 people have fled the area but 50,000 remain.
Aid workers have been barred from the area since the fighting escalated last year.
The rebels say the government is deliberately blocking food aid to the area – a charge the Sri Lankan authorities have denied.
Hunger warning
Hospitals and government-run camps for displaced people in the north-east have been flooded by people fleeing the shrinking rebel-held zone as the military closes in on the rebels.
But some 50,000 civilians are believed to be trapped with the fighters in a 12 sq km (5 sq m) area.
Speaking in Thailand on his way to Sri Lanka, Mr Holmes said the civilians caught up in the conflict were suffering not only a high casualty rate from the fighting, but from a lack of access to food, clean water and medical supplies.
"The situation of these people is very dire and that's why we need to somehow find a way to stop the fighting and get them out of there so we can look after them properly," he said.
The Sri Lankan army has said there can be no more pauses in fighting until the rebels are defeated.
A UN document being circulated around diplomatic missions in Sri Lanka estimates that nearly 6,500 civilians have died and 14,000 have been injured since the end of January.
The White House said it was "deeply concerned about the plight of innocent civilians caught up in the conflict between the government of Sri Lanka and the Tamil Tigers and the mounting death toll".
(For updates you can share with your friends, follow TNN on Facebook, Twitter and Google+)