UN's Holmes in Sri Lanka for crisis talks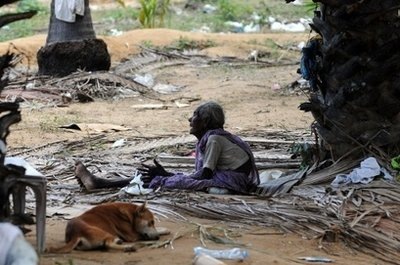 UN humanitarian chief John Holmes was to hold talks with the Sri Lankan government on Sunday over the thousands of civilians caught in fighting between troops and Tamil rebels, officials said.
Holmes, who arrived here on Saturday for a three-day visit, was to meet with Human Rights and Disaster Management Minister Mahinda Samarasinghe.
"The top priority remains the preservation of the lives of the tens of thousands of civilians still trapped inside the combat zone," Holmes said in a statement at the start of his mission.
"I also want to see the people in the camps, to visit UN staff being held there, and to review how the sudden outflow of so many people from the combat zone is being managed."
He is due to leave on Monday after visiting internally displaced people and holding talks with Sri Lankan leaders, including President Mahinda Rajapakse.
The United Nations believes up to 50,000 non-combatants are still trapped in the tiny sliver of jungle where the Sri Lankan military has surrounded the remnants of the once powerful Liberation Tigers of Tamil Eelam (LTTE) army.
Around 100,000 civilians have already managed to escape the area, and Holmes said he also wanted to inspect the government-run camps where critics say the refugees are being held in prison-like conditions.
The UN says dozens of its local Tamil employees are also detained in the camps and wants them freed together with their families.
The plight and suffering of those caught in the fighting prompted US President Barack Obama's administration on Friday to urge an end to hostilities.
"We call on both sides to stop fighting immediately and allow civilians to safely leave the combat zone," the White House said in a statement.
The Sri Lankan government has so far resisted all calls to halt an offensive that is now on the brink of wiping out the LTTE who have been fighting for an independent Tamil homeland since 1972.
The Tigers, once one of the most feared guerrilla organisations in the world, have seen their territory shrink to a coastal area measuring just 10 square kilometres (about four square miles).
The White House specifically demanded an end to any military shelling in a designated "safe zone" and access for aid groups and journalists to civilians who have escaped.
A British surgeon working for Medecins Sans Frontieres (MSF), Paul McMasters, said his team in a state-run hospital near the conflict zone had been overwhelmed by the influx of injured civilians.
"It?s so crowded that the nurses cannot physically walk around," he said, estimating the number of patients in a 45-bed ward at around 320.
"There are simply too many people to treat them all. We are not able to save some people because we need to provide more aftercare," he said, adding: "There are simply not enough nurses."
The LTTE issued their own call for foreign intervention, warning that the civilians under their control were facing "imminent" starvation.
Sri Lanka's military success has come at a huge human cost, rights groups say, with the UN estimating as many as 6,500 non-combatants may have been killed and another 14,000 wounded in the fighting so far this year.
Independent verification of casualty figures is almost impossible as journalists have long been barred from the island's north, except when under strict supervision on trips organised by the military.
The Sri Lankan government has been blocking most aid agencies from working in the war-torn north for months, and accuses UN agencies and NGOs of supporting the Tamil Tigers.
Nevertheless, Sri Lanka's Human Rights Minister Mahinda Samarasinghe welcomed the visit by Holmes, his second in as many months.
"We hope to have a constructive discussion with him," Samarasinghe said.
(For updates you can share with your friends, follow TNN on Facebook, Twitter and Google+)