'Ayan' returns equal to 'Sivaji'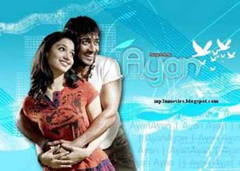 'Ayan' seems to have grossed as much money as the superstar's film 'Sivaji.' This is already being dubbe din Telugu as 'Veedu Okate.'
Before the film was released, most did not even know the meaning of 'Ayan' but now these people are watching the film again and again. It is to be noted that no other film got released that time as competition to 'Ayan.' Apart from KV Anand's direction, it is Surya's fantastic action that is bringing in the viewers.
Surya went to Hyderabad for dubbing for 'Ayan.' 'He shared his joy with reporters there.
"This is my 23rd film. Among all my films released so far, this is the mega hit. It has made double the profits of 'Ghajini.' Instead of being a usual commercial film, there was also logic in it, that's why it has succeeded. Telugu fans would surely like the film. That's why I'm paying lots of attention to this.
(For updates you can share with your friends, follow TNN on Facebook, Twitter and Google+)