Sri Lanka block access to civilians in war-zone:UN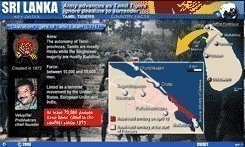 Sri Lanka is refusing humanitarian access to its war zone where some 50,000 people are believed trapped, a top UN diplomat said on Monday, while welcoming a government move to slow down its military offensive.
The UN's humanitarian chief John Holmes failed to secure agreement with President Mahinda Rajapakse in talks here Monday to send a humanitarian mission to the shrinking conflict area on the island's northeast coast.
"We don't have agreement on this," Holmes told reporters here after talks with Rajapakse, referring to a request by UN Secretary General Ban Ki-moon to get a UN team to the conflict area. "I am disappointed about this."
Colombo has said security conditions would not allow aid workers into the area, even though the government on Monday announced that all "combat operations have reached their conclusion."
Holmes welcomed Colombo's announcement that troops had been ordered not to fire heavy calibre guns or use combat aircraft to attack the cornered Tamil Tiger rebels, but said he wanted to see the pledge implemented.
"I hope it will be genuinely respected this time," Holmes said. "It has not happened in the past."
Asked if the government was confident of finishing off the Tigers militarily, Holmes said: "The government feels they have reached the end of the process, but we hope we can have a way of ending this peacefully without further bloodshed."
President Rajapakse has resisted international calls for a ceasefire and said he would not accept anything short of a complete surrender by the Tiger leadership.
However, his office said the decision not to fire heavy weapons was taken to spare civilian lives in its battle against the Tamil Tigers, but asserted it was not calling a truce.
The rebels immediately accused the government of merely trying to deflect international pressure, and said fierce fighting continued to rage. The Tigers also said they would "never surrender" despite being outgunned and surrounded.
A government official said Colombo's statement only heralded a change in tactics and that fighting was continuing. Sri Lanka's military has also been saying for months that they were not firing heavy weapons into rebel-held territory.
A UN document circulated among diplomats in Colombo last week said as many as 6,500 civilians may have been killed and another 14,000 wounded in the government's offensive this year.
The rebels meanwhile accused government troops of continuing to pound their territory.
"They are only paying lip service to pacify the international pressure," rebel spokesman S. Puleethevan told AFP by telephone. They have carried out two aerial attacks this afternoon."
He also vowed the Liberation Tigers of Tamil Eelam (LTTE), who have been fighting for an independent Tamil homeland since 1972, would not give up — even with the odds stacked against them.
"We made our position very clear… We will never surrender till our legitimate demands are met," he said.
The rebels offered a unilateral ceasefire on Sunday, although this was immediately dismissed by Sri Lankan Defence Secretary Gotabhaya Rajapakse — the powerful brother of the president — as "a joke."
"What is the need for a ceasefire when they are running away? They should first lay down arms, surrender and let the people go," Rajapakse said.
Some 110,000 civilians escaped from the rebel-held sliver of territory on the island's northeastern coast last week following a major military push. They are sheltered in state-run camps and are not allowed to leave.
The British minister for International development, Mike Foster, visited the camps in the northern town of Vavuniya and said they needed more food and water, shelter and access to healthcare and sanitation.
The military action against the Tamil Tigers has sparked anti-Sri Lankan protests in several capitals, with the latest by some 200 people in London leading to an attack on Colombo's diplomatic mission there.
(For updates you can share with your friends, follow TNN on Facebook, Twitter and Google+)