Sri Lanka steps up intense barrage of heavy weapons
Sri Lanka Air Force (SLAF) bombers continued heavy bombardment on Mu'l'li-vaaykkaal in five sorties unloading bombs 23 times, completely disregarding the announcement by the Colombo government that its armed forces were instructed to halt the deployment of heavy weapons. Latest reports indicate heavy barrage by the SLA targeted Mu'l'li-vaaykkaal area since 7:00 p.m., when the SLA started firing artillery shells fitted with cluster munitions, Multi Barrel Rocket Launcher (MBRL) fire and heavy mortar fire from many directions on the northern side of Mu'l'li-vaaykkaal in the so-called safety zone, signalling a ground offensive. Sri Lanka Navy (SLN) gunboats have also started firing in the evening, the reports further said.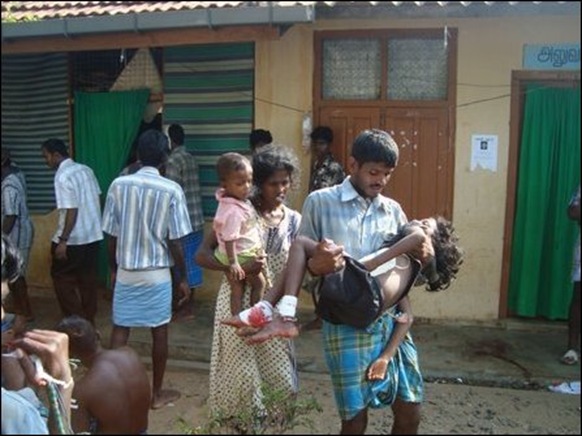 Civilians in the so-called safety zone were relieved for a while as the annoncement by Colombo reached them through radio news broadcast Monday noon. But, their expectation was short lived as SLAF bombers flew over the safety zone carrying out air attacks hitting the southern part of the zone 4 times around 12:40 p.m., 2 times around 1:10 p.m. and 3 times around 3:45 p.m.
SLAF bombers had carried out air attacks in two sorties in the morning, unloading 6 times around 9:00 a.m. and 8 times around 10:00 a.m.
Heavy exchange of gunfire was reported in Valaignarmadam, 2 km north of Mu'l'li-vaaykkaal and in Vadduvaakal in the south.
Medical sources verified Monday evening that 139 patients were registered as admitted at the hospital as some patients left after bandaging their injuries. 19 of the victims have succumbed to their injuries at the hospital. The dead were not brought to the hospital. Medical staff complained that they had no medicines and that they were only bandaging the wounded and seriously wounded patients were staying in the premises of the makeshift hospital.
Starvation prevails in the safety zone. Babies have no milk powder. Most of the people are dependent on gruel supplies and dhal. Nobody was able to fish.
Many elders would die if they are not provided with food within 3-4 days, doctors at the hospital said. Many of them had no food for the last 3 – 4 days.
The humanitarian supply ship, which was supposed to reach the safety zone, was diverted to Jaffna by the Colombo government. Although the reason provided was that there was no security guarantees to unload food items, the ship was allowed to pass through the Mullaiththeevu seas as civilians were starving inside the safety zone.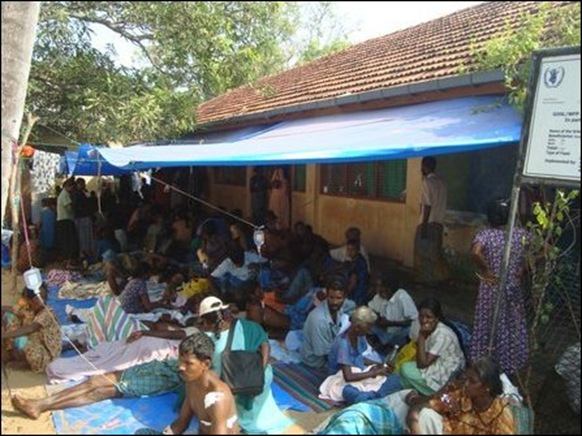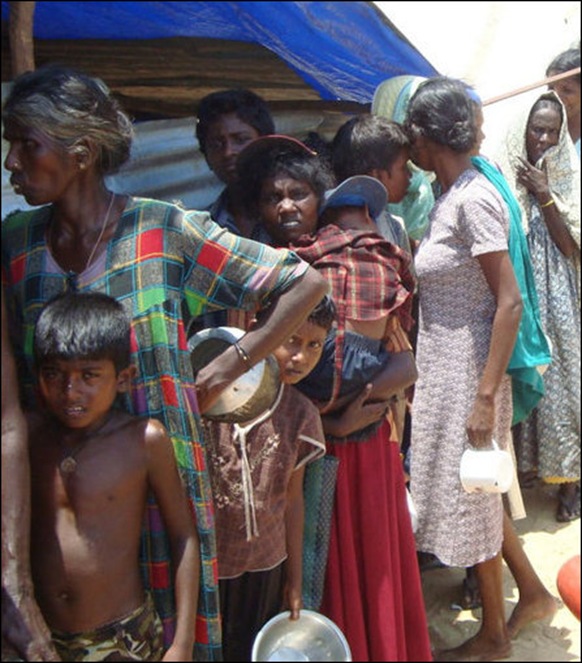 (For updates you can share with your friends, follow TNN on Facebook, Twitter and Google+)