Tamil supporters smash windows in London protest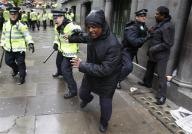 Supporters of Tamil separatists smashed windows and brought traffic to a standstill in central London on Monday in a protest to demand an immediate ceasefire in an offensive by government troops in Sri Lanka .
Witnesses said demonstrators threw small missiles at the Indian High Commission (Embassy), smashing ground floor windows.
"We want an immediate ceasefire," protester Kamal Dnansun told Reuters. Others chanted "Ceasefire Now!"
Aound 150 people were protesting but there had been no arrests so far, police said.
The demonstrators accused India of covertly supporting the Sri Lankan government and blocking a halt in the fighting.
"India is instigating this war, orchestrating it in the background. They are conducting the drama, even if the Sri Lankan government wants to pull out, they are not being allowed to," said a protester who gave his name as only as Sanjeevan.
Tamils and their supporters have staged regular demonstrations in London against the conflict. Last week, thousands blocked streets around parliament.
Colombo dismissed an attempt on Sunday to declare a truce by the Liberation Tigers of Tamil Eelam rebels, who are now cornered in less than 10 sq km (4 sq miles) of coastline by a Sri Lankan military intent on ending a war that started in 1983.
Foreign ministers from Britain, France and Sweden were due to fly to Colombo on Wednesday to try to bring a peaceful end to the battle in the last pocket of territory held by the Tigers.
(For updates you can share with your friends, follow TNN on Facebook, Twitter and Google+)