Tamil Tigers under heavy assault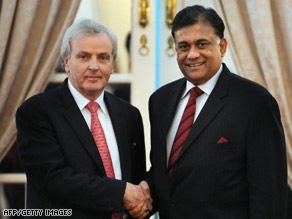 Tamil Tiger rebels came under fire from "all points" early Monday, as Sri Lankan government troops pressed their offensive in the country's north.
"Sri Lanka army began firing from all points along the north, west and south," the rebel Web site TamilNet reported. "Heavy gunfire was reported in the north and south of Mu'l'li-vaaykkaal."
Government forces were pushing toward the final rebel "hideout" in the north, the Sri Lankan Ministry of Defense said on Monday. In fighting Sunday, the military claimed to have intercepted a rebel radio transmission that said 12 terrorists have been killed and 27 others injured.
Sri Lankan officials rejected a proposed cease-fire from the Tamil rebels Sunday, warning instead that government troops would continue a new offensive until the group surrenders, a senior government official told CNN.
"The government is firm that (the rebels) lay down their arms and surrender. We do not recognize this so-called offer," said Lakshman Hulugalle, director of Sri Lanka's Media Center for National Security.
The Tiger leadership had asked the international community to "pressure the Sri Lankan government to reciprocate" on the cease-fire offer.
The proposed cease-fire came six days after the Sri Lankan army launched a new offensive against the Liberation Tigers of Tamil Elam (LTTE). Government troops made significant advances into rebel-held territory on Friday and Saturday, according to Sri Lankan army sources.
A government-imposed deadline for the Tigers to surrender passed last Tuesday. Tens of thousands of displaced civilians currently remain wedged in a dwindling swath of territory controlled by the Tigers along the country's northeastern coast.
Government troops say they have rescued 39,000 civilians trapped in the area, but a U.N. refugee agency said Friday that a wave of "fresh displacement" has now exceeded 100,000 individuals.
  Watch civilians describe what they are experiencing »
The rebels estimate the number of civilians still located in the territory at more than 160,000.
"If the expected offensive goes forward, there will be more than 10,000 casualties as the area is densely populated and there is no cover from bombs, shells and bullets," said a news release issued by the field office of Tamils Rehabilitation Organization in Vanni, TamilNet reported.
The Sri Lankan military said it "freed 3,254 civilians from LTTE clutches" in operations Sunday.
(For updates you can share with your friends, follow TNN on Facebook, Twitter and Google+)