I cried in prison: Seeman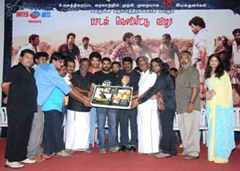 Loneliness, confinement in prison have not affected Seeman's feelings and sentiments. He was released on bail yesterday and took part in his film's function, where he spoke out his views again.
In 'Mayandi Kudumbathar,' he acts under Irasu Madhuravan's direction with 10 other directors including Manivannan and Tarun Gopi. The audio release function took place yesterday in Chennai. Ameer released the audio and it was accepted by P Maniarasan, the leader of Thamizh Desam Podhuvudamai party.
Seeman spoke at the function. "Everyone is afraid of prison. I was also afraid. Only after I went into a prison, I lost my fear. There's nothing to fear. There are many nice people in prison. Most of the bad people are outside prison.
I was alone for 70 days in prison. One cannot use the cell phone inside. One can only speak on the pay phone by using a rupee coin. I learnt then about the atrocities happening in Srilanka and here. I would sit in the bathroom and cry. There is no one to hug for comfort.
MGR is leader of the Tamil race. He worked for the Tamil race. An MGR for Tamilnadu. A Prabhakaran for Eelam. For saying these things, no one can arrest me.
(For updates you can share with your friends, follow TNN on Facebook, Twitter and Google+)