Sri Lanka rejects West 'lectures'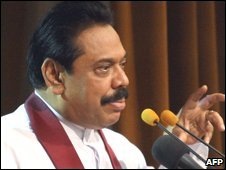 Sri Lanka's President Mahinda Rajapaksa has again ruled out a ceasefire with Tamil Tiger rebels and says the West should not lecture him about it.
He was speaking a day after visiting UK Foreign Secretary David Miliband and French counterpart Bernard Kouchner had called for a truce.
Mr Rajapaksa said the rebels still had "a little time left" to surrender.
He said foreign envoys should not preach about civilian welfare or believe "the propaganda of terrorists".
The Sri Lankan military has restricted Tamil Tiger rebels to a 10 sq km (6 sq miles) area of land in the north and believes it is close to defeating them.
Tens of thousands of civilians have been trapped in the area or are in government-run camps for displaced people.
'Winning the peace'
Mr Rajapaksa said: "We have no plans to go for a ceasefire with the Tigers, but they have a little time left to drop their weapons and surrender even though our military operation is at a final stage."
Mr Rajapaksa said foreign envoys were "trying to preach to us about civilians".
"We have seen how Afghanistan is bombed. Those who come to preach to us [have] seen how Afghanistan is bombed. It must be made clear that before accusing others, you must have the strength to know what you do yourself," he said.
"It is my duty to protect the people of this country. I don't need lectures from Western representatives."
The UN and EU have persistently called for a ceasefire and expressed concern at civilian deaths.
The Sri Lankan government this week said it had stopped using heavy weapons in the conflict zone but the Tamil Tigers say artillery and air attacks are continuing.
Mr Rajapaksa said: "If I say we don't use heavy weapons, that means we don't. But these foreign envoys are prepared to believe the propaganda of a terrorist organisation."
The pro-rebel TamilNet website said the UK and French mission had "failed" and the Tigers were expecting "the worst phase of massacre any time soon".
On Wednesday, Mr Miliband said: "Now is the time for the fighting to stop. Sri Lanka's military advances have been spectacular, but winning the peace is as vital as winning the war."
(For updates you can share with your friends, follow TNN on Facebook, Twitter and Google+)