S Lanka admits bombing 'safe zone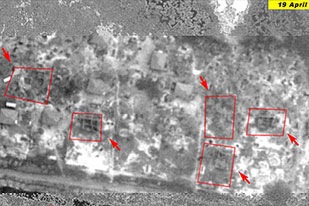 The Sri Lanka government has admitted carrying out air strikes in the so-called no-fire zone in the country's northeast where the army is battling Tamil separatists.
But Palitha Kohona, the Sri Lankan foreign ministry secretary, told Al Jazeera that the strikes were weeks ago and the military focused only on the Tamil Tigers' artillery guns, well away from civilians.
"As long as the retaliation is proportionate it is perfectly legitimate and what we did exactly was located these guns and retaliated against those guns," he said.
"But I would challenge anybody to say that these shell holes were created once the civilians moved into the area and became occupied by civilians," he added.
The apparent admission follows the leaking of UN satellite images showing evidence of such attacks, supporting claims by Tamil groups that aircraft had bombed the area the government designated a safe zone in February.
Earlier denial
The government had for weeks repeatedly denied its armed forces were using heavy artillery or conducting air raids in the safe zone where it says Tamil Tigers have been holding civilians as human shields.
Many who have managed to get out say the fighters were indeed holding them against their will, and fired on them to prevent their escape.
Tens of thousands of civilians, along with the Tamil Tigers, are believed to remain clustered in the 10sq km area.
On April 19, Kohona told Al Jazeera there was no government shelling in the safe zone.
"Absolutely not because the government has issued instructions, very strict instructions, to the military not to use aerial bombing or shelling into this area."
But on Friday, confronted by the latest UN satellite imaging agency (Unosat) pictures showing craters which were formed inside the zone between February and April this year, Kohona at first challenged their authenticity before admitting targeting the Tigers' heavy guns.
He said, however, that it was before civilians flooded the area and maintained that the government adhered to international law.
Detailed images
Unosat says the pictures show craters which were formed inside the zone between February 15 and April 19, the day before the army breached the Tigers' defences and civilians started to pour out.
Einer Bjorge, head of the mapping unit at Unosat, told Al Jazeera the pattern of the craters would have required air power.
"The imagery is fairly clear and shows the time, so anybody can study and compare them," he said.
He said the images were also commercially available from the satellite operator.
"Anyone interested in verifying the images can purchase them if they want. It is commercially available to the public," he said.
"You can't get any more transparent than that."
(For updates you can share with your friends, follow TNN on Facebook, Twitter and Google+)