Des Browne makes first visit to Sri Lanka since dispute with leaders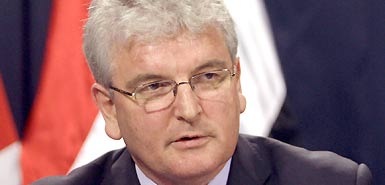 Des Browne, the former Defence Secretary, arrives in Sri Lanka today on his first visit since its government rejected his appointment as special representative to the Indian Ocean island in February.
Sri Lanka has refused to allow Mr Browne to visit in his new role to press international calls for a ceasefire with the Tamil Tiger rebels and for aid agencies to be given access to the 50,000 civilians the United Nations estimates are still on the frontline.
It has permitted Mr Browne to visit as part of a cross-party British parliamentary delegation to meet Sri Lankan officials and visit camps where an estimated 170,000 civilians, mostly ethnic Tamils, are being held and screened after fleeing the fighting.
The other members of the delegation, which will be in Sri Lanka for two days, are John Bercow (C); Malcolm Bruce (Lib Dem); Edward McGrady (SDLP), and Mohammed Sarwar (Lab).
"We intend to see for ourselves just how serious the humanitarian situation is," Mr Bercow told The Times before leaving. "We regard ourselves as friends of Sri Lanka."
Relations between Britain and Sri Lanka have soured dramatically since Downing Street appointed Mr Browne and began to express concerns in public about civilians stuck on, or fleeing, the front line.
David Miliband, the Foreign Secretary, returned empty-handed from Colombo, the Sri Lankan capital, last week after a joint mission with Bernard Kouchner, the French Foreign Minister, to appeal for a ceasefire.
Mr Miliband also had a heated exchange with Gotabaya Rajapaksa, the Defence Secretary, who is also the President's brother, over reports that the army was still shelling civilians on the front line.
Sri Lanka says that a ceasefire would allow the Tigers to regroup and rearm, and accuses Britain and other Western countries of undermining its efforts to finish a 26-year civil war that has killed more than 70,000 people.
A statement on the Defence Ministry website yesterday lashed out at Western governments for threatening to penalise Sri Lanka by blocking the $1.9 billion (1.2 billion) emergency IMF loan it applied for in March.
"Ironically, these so-called human rights champs tried to justify their claims saying that they were doing it for the safety of civilians, held at hostage by terrorists in island's North," the statement said.
"Moreover, they put a number of ridiculous demands on the Sri Lanka Government, such as offering amnesty to the terrorists, allowing a third party to rescue the terrorist leaders, go for a ceasefire, etc. Never did history unmask the hypocrisy and the sanctimony of the Western powers than their behaviour towards Sri Lanka during recent times."
However, Mahinda Samarasinghe, the Human Rights Minister, suggested later that the Government was considering an amnesty for Tigers who surrendered.
Mr Samarasinghe, who is due to meet the parliamentary delegation, said that officials from the Attorney-General's department were studying the legal basis for a possible pardon but a final decision had not been made. He said that any such offer would not be open to Velupillai Prabhakaran, the rebels' leader.
The Tigers wrote an open letter to the British and French foreign ministers urging them to help to negotiate an immediate ceasefire.
A pro-rebel website, Tamilnet, accused the army on Saturday of killing 64 civilians in a shell attack on a makeshift hospital in the 2.8 sq mile (7.2 sq km) strip of northeastern coastline where it has pinned down the Tigers. The army has denied that.
(For updates you can share with your friends, follow TNN on Facebook, Twitter and Google+)