Sri Lanka grateful to India for medical assistance – Senior Presidential Advisor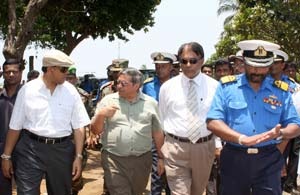 The Indian Government was yesterday praised for providing healthcare facilities to the civilians who escaped terrorist atrocities, said Senior Presidential Advisor Basil Rajapaksa, MP during an inspection to the Indian Mobile hospital at Pulmudai. He said Sri Lankans will never forget how India came to the assistance of civilians who were affected by LTTE terrorist atrocities.
This mobile hospital equipped with all modern facilities including surgery theatres has treated more than 10,000 civilians since March 12, 2009. A 62 member staff including 8 Indian doctors are in the service of this hospital.
Basil Rajapaksa, mp said the program launched by the Indian Government to provide urgent medical treatment to civilians fleeing from the terrorists have achieved tremendous success and India deserves the commendations from all segments of Sri Lankan society. He conveyed the gratitude of President Mahinda Rajapaksa and the Government to India for setting up a mobile hospital for these civilians at Pulmudai.
"The Indian medical team has made the Security Forces' mission to free innocent civilians from the clutches of terrorists more easier, he said.
Indian High Commissioner Alok Prasad said this fully fledged mobile hospital was set up by India for the purpose of promoting the health of displaced civilians. "The hospital has been able to cater to the medical needs of all civilians brought to Pulmudai by ship. This hospital symbolises how India is concerned for its neighbour, Sri Lanka and the people, he said.
Senior Presidential Advisor Basil Rajapaksa, MP also inspected the construction of the bridge across the Yan Oya on the Trincomalee–Pulmudai road. The Spanish Government has provided Rs. 1.800 million under its credit line for the purpose.
Eastern Province Governor Rear Admiral Mohan Wijewickrema, Trincomalee District Secretary Major General T.T. R De Silva and Senior security personnel were also present.
(For updates you can share with your friends, follow TNN on Facebook, Twitter and Google+)