British MPs start Sri Lanka visit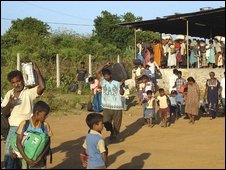 A team of British MPs has arrived in Sri Lanka to discuss the difficulties facing tens of thousands of civilians affected by the conflict in the north.
The delegation includes former defence secretary Des Browne, whose appointment as Britain's special envoy to Sri Lanka was turned down by Colombo.
The MPs are to visit camps for displaced people in the north.
Meanwhile, Tamil Tiger rebels have praised the UK and French foreign ministers for their visit last week.
The Tigers have been fighting for an independent home for Sri Lanka's minority Tamils in the north and east of the country for the past 25 years.
In the last few weeks, a sustained army offensive has pushed the rebels to a tiny patch of land in the north-east.
The cross-party group of five MPs will be visiting camps for displaced people in the north, and its discussions will focus on the humanitarian crisis, the British High Commission in Colombo told the BBC.
The BBC's Charles Haviland in Colombo says the atmosphere may be strained at times.
In February the Sri Lankan government rejected UK Prime Minister Gordon Brown's attempt to appoint Des Browne as Britain's special envoy to the island.
Colombo rejected the nomination, describing it as "a disrespectful intrusion" conducted "unilaterally".
'Turning sour'
Sri Lanka's ties with several Western nations are turning sour over Western appeals for a ceasefire to let trapped civilians out of the war zone, our correspondent says.
Both sides were urged to initiate a ceasefire in the far north-east by the UK and French foreign ministers during their visit.
The Tigers have repeatedly said they want a ceasefire.
The Sri Lankan government says a ceasefire would get in the way of its objective of finally defeating the rebels, an aim it says is in sight.
"Sri Lanka is about to conclude her war against terror," a statement on the Sri Lankan defence ministry website said on Sunday.
"The ordeal that about 19 million people have been living with for more than quarter of a century is about to be over," it added.
Tens of thousands of civilians are still believed trapped in fighting between the army and Tamil Tiger rebels in the north-east.
The defence ministry has said that hundreds more Tamil civilians have fled the war zone, while others trapped by the fighting are being used as "human shields" by the rebels.
The Tigers have in turn accused the army of shelling civilian areas, including hospitals.
About 50,000 soldiers are pressing the Tigers into a patch of north-eastern jungle after taking the key areas of Kilinochchi, Elephant Pass and Mullaitivu.
The government has demanded the rebels lay down their arms.
(For updates you can share with your friends, follow TNN on Facebook, Twitter and Google+)