Namitha's love for Subway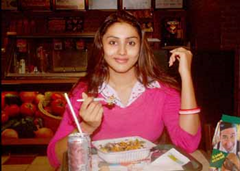 Those who have seen Namitha of late have been surprised. The buxo lady has slimmed own a bit. She ascribes that to her love of Subway. Even if she craves for one at night, she takes her car and sets out for Subway.
This Subway we refer to here is a restaurant. There seems to be many plus points to food at the Subway restaurant.
Tasty food, yet one will not put on weight. This is a boon to weight watchers, whether they are veg or non-veg. The food is healthy because the Subway sandwiches contain hardly any fat. For instance, roast chicken has only 4g fat. Subway is famous worldwide and in Chennai alone, there are 10 restaurants. We met the Tamilnadu director Vipin Sachdev. He said:
"The physique is most important for film stars. That's why many of them come to Subway to eat the healthy, non-fat food. Namitha may have thousands of fans, but she is herself is an ardent fan of Subway because of the quality of Subway food. She visits us frequently. She will sit in the car, order and eat her food in the car. Subway is also popular with other stars like Kamal, Sathyaraj, Sarath Kumar, Vikram, Ajith, Kanimozhi (MP), director Mani Ratnam and others."
Kamal, Surya-Jyotika love the Subway roast chicken salad so much that they order for themselves specially. Trisha likes veg shammi. During 'Guru' shooting, Abhishek Bachchan and Aishwarya Rai used to eat at Nungambakkam Subway.
"Without eating, people say they are on a diet. Eating the right food is the correct way to maintain a healthy diet.
(For updates you can share with your friends, follow TNN on Facebook, Twitter and Google+)