I too am a tiger: Seeman agitated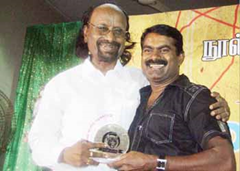 A function for the release of the book 'Melaikadalil Eezhakaatru' written by the cinematographer Kaviyarasu was held in Chennai.
Unarchi Kavignar Kasi Anandan presided over the function and the book was released by cinematographer Balu Mahendra while Kumeresan whose son Muthukumaran sacrificed his life for the cause of Eelam Tamils received the first copy of the book.
Kavignar Kasi Anandan said in his presidential address: "Politicians and internet sites claim that this is the election season. It is a mistake. It is a season to fight. This is the season when the whole of Tamil country is rising to protect the Eelam Tamils.
There is something unique about the struggle of the Eelam Tamils. There have been independence struggle in countries like Vietnam, South America, Cuba, China and Russia. But all these struggles took place on their own soil. The Tamil Eelam cause on the other hand is being fought inside there and outside too with a great vigour.
Don't belittle the great fight undertaken by our leader for the past 32 years. Prabhakaran is a leader to be counted as the only one to emerge in a century. If the Tigers were terrorists, have they ever killed innocent Sinhalese? Have you ever heard of a Tiger having raped a Sinhalese woman or at least ill-treated one? Can any Sri Lankan government make such an accusation?
On what basis are they considered as terrorists? Issues can be discussed to find a solution. As an Eelam Tamil who is a friend of India, what we appeal for is immediate cessation of the offensive; removal of the ban over the Tigers and blossoming of Tamil Eelam."
Seeman who followed him spoke emotionally for one hour.
'I am being accused of being a Tiger. Who is the Tiger? This Seeman is a Tiger, yes. Yet I am not the only one. Everyone who raises his voice against those who raped my Eelam Tamil sisters is a fighter, a Tiger too.
I have been given an explanation that I was arrested under the National Security Act just because I claimed Prabhakaran is my brother. If Sonia, an Italian can claim India as her mother, how else will I call Prabhakaran who has the same blood and an umbilical cord relative other than my brother?
How many false accusations? Dictator, seeking a separate country where he went for making a living, fighting to increase his own popularity? Time will prove that all such false accusations will be burnt down by the fire power of Prabhakaran.
We can't be a mute spectator when innocent Tamils are killed, when helpless Tamil women are raped and when a Tamil brother is left half dead. Won't they be crying when someone in the house is dead? Is it a film shooting for us to keep quiet? 'We believe in death as a free person rather than live as a slave. Why is it that our brethren who are crowding in front of the wine shops and cinema theatres have not realised it?" Prabhakaran sorrowed thus to me.
The Tamil beyond the sea is dying. The Tamil on this side too is dying. I am suffering from this helplessness. There is no country called Sri Lanka. Its true name is Eelam. The Congress is the force behind demolishing the nation where Prabhakaran had organized law and order, armed forces, tax collection, education, transportation and so on. That Congress should be driven out of this soil. I may die, but I will drive away the Congress," said Seeman.
Directors Balu Mahendra and KS Adhiyaman, advocate Paul Kanakaraj, painter Pugazhendhi also spoke. Sundara Puthan, the journalist gave the welcoming speech. Kaviyarasu, who wrote the book 'Melaikadalil Eezhakaatru gave the thanksgiving speech.
Dailynews – I too am a tiger: Seeman agitated
(For updates you can share with your friends, follow TNN on Facebook, Twitter and Google+)