UN calls for cease-fire in Sri Lanka civil war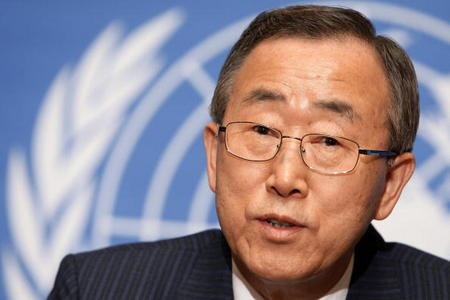 U.N. Secretary-General Ban Ki-moon has urged Sri Lanka to stop using heavy weapons that risk civilian lives and to suspend its offensive against ethnic Tamil rebels so that desperately needed aid can be sent to the war zone.
Ban spoke to President Mahinda Rajapaksa on the telephone Tuesday night amid heavy international pressure for a humanitarian cease-fire in the conflict. Rajapaksa has brushed off such calls, saying a truce would give the rebels a chance to regroup.
The government has cornered the remaining rebel fighters — along with tens of thousands of civilians — in a narrow coastal strip in the north and stands on the brink of victory after a nearly quarter-century civil war.
Speaking to reporters in New York, Ban said he asked Rajapaksa for "a humanitarian pause in the fighting" to allow aid into the conflict zone and urged the government to stop using heavy weapons in areas heavily populated by civilians.
"I repeat: Protecting civilians and respecting international humanitarian law, must be priority one. The world is watching events closely, including for violations of international law," he said.
The government pledged last week to stop using artillery fire and air strikes, but health officials in the war zone say such attacks have continued.
Ban also said the Tamil Tigers should let the estimated 50,000 civilians trapped by the fighting out of the war zone and to stop forcibly recruiting fighters from their ranks.
"Above all, there is an urgent need for the two sides to bring the conflict to a peaceful and orderly end," he said.
The appeal came as a British parliamentary delegation finished a two-day tour of the country and a Canadian Cabinet minister also visited. Last week the British and French foreign ministers traveled here to personally press for a humanitarian truce.
The intense fighting since the end of January has killed about 6,500 civilians, according to a U.N. document compiled last month. Hundreds of more civilians have been reported killed since then.
During the phone conversation, Rajapaksa invited Ban to visit the country and personally assess the situation, according to a statement from the president's office. U.N. spokesman Gordon Weiss said no decision had been made on such a visit.
The rebels said in a statement Tuesday that civilians trapped in the war zone were facing starvation and accused the government of blocking food deliveries. Health officials in the area have also said the elderly and children were suffering and dying in increasing numbers because of lack of food.
Human Rights Minister Mahinda Samarasinghe said the government had delivered enough food and accused the rebels of grabbing the supplies for themselves.
Reporters and independent observers are barred from the war zone making the government's claims difficult to verify.
(For updates you can share with your friends, follow TNN on Facebook, Twitter and Google+)