Songs leak from Vijay and Simbu films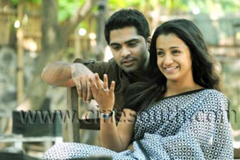 One hears music to relax. But the producers of Vijay and Simbu's films listen to songs and end up tense. That's but natural since they spend in crores and the songs suddenly get public by crooked means.
Internet aficionados are happy listening to songs from Vijay's 'Vettaikaran' and Simbu's 'Vinnai Thaandi Varuvaaya.' This song that has leaked is from 'Vettaikaran' composed by Vijay Anthony.
"Vettaikaran doi Vettaikaran doi
Vetta vetta vetta vetta
Vettaikaran doi
Vettaikaran paramparaidaa
Vettaiyaada varendaa
Vettaruvaa ayudhamdaa
Vengaipola paayuvendaa…"
From 'Vinnai Thaandi Varuvaaya,' 2 songs composed by AR Rehman has leaked out. One song is:
"Anbe en kaadhalane
Nenjukkule poomagane
Anbe kaamugane
Unnai kaana thudikudhu en maanme…"
The other song is:
"Endhan nejil arpudham
Unnai paartha maru kanam
Unnai paartha maru kanam
Kaadhal solla thudikkudhu…"
(For updates you can share with your friends, follow TNN on Facebook, Twitter and Google+)