'Sea battle' near Tamil war zone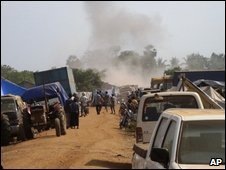 Sri Lanka says its navy has killed at least 14 Tamil Tiger fighters in a sea battle close to the remaining area of fighting on land.
The Tigers, who have been driven back into a small pocket of land by a government offensive, denied having any boats in the area.
The government has told civilians still inside the war zone to move to a smaller "safe zone".
The UN estimates that about 50,000 civilians are trapped by the conflict.
The defence ministry also said that soldiers had recovered the bodies of 35 rebels killed in fighting on Friday.
The Tamil Tigers have fought for an independent homeland for Sri Lanka's Tamil minority since 1983.
More than 70,000 people have been killed in the war.
'Safe zone'
Sri Lankan naval special forces sank two Tiger boats carrying 14 rebels off the coast of Mullaittivu at about 0300 on Saturday (2130 GMT Friday), according to the military.
They destroyed one "suicide boat" and one "attack craft", as well as capturing a second "suicide boat".
A rebel spokesman said that in fact the army had attacked fishing boats and that no rebels were killed in the sea encounter although, he added, on land there was "fighting all over the place".
He said the rebels' naval wing, the Sea Tigers, still controlled "vast areas of the sea".
The military announced on Friday it had demarcated a new "safe zone" in the conflict area and was asking civilians to move there for their own protection.
A Sri Lankan military official told the BBC the zone was 3 sq km and inside a small strip of coastal land still under the control of the Tigers.
A military official said troops would attack rebel positions outside the new zone to rescue civilians.
Tamil Tigers described the move by the military as propaganda.
They accuse government forces of firing heavy weapons into the no-fire zone causing a high number of civilian casualties. The military has denied the charges.
The UN earlier rejected the term "safe zone".
The International Committee of the Red Cross has told the BBC that because of the volatile security situation, its plans to evacuate more sick and wounded people and deliver food by ship could not be carried out on Friday.
(For updates you can share with your friends, follow TNN on Facebook, Twitter and Google+)