Sri Lanka arrests Channel-4 journalists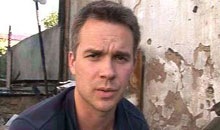 Three British TV Channel-4 journalists, Nick Paton-Walsh, the channel's Asian correspondent, producer Bessie Du and cameraman Matt Jasper, who were covering the Sri Lanka conflict in Trincomalee have been arrested and are being taken to Colombo, AP reported. Channel-4′s first independently filmed recent exposure coverage of the conditions of the Tamil refugees who fled the war and being in the internment camps had irked Colombo. The blatant rights violations of the Sri Lanka state had disturbed the world at large for the cavaliar fashion the state was behaving towards the civilians.
ITN News, which produces Channel 4, confirmed that its reporting team has been ordered to leave the country by the Sri Lankan Defense Minister, "after reporting allegations of abuse and ill-treatment of Tamils held in internment camps," the AP report said.
Despite dithering within the apex rights body, the UN, that had allowed the Sri Lanka state a free hand in killing the civilians in their pursuit of the Tigers, other independent rights watch dogs including the New York-based Human Rights Watch (HRW), and independent media including Inner City Press (ICP) have been exposing the war-crimes being committed by the Sri Lanka state.
(For updates you can share with your friends, follow TNN on Facebook, Twitter and Google+)