Vijayalakshmi's free style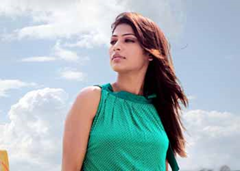 Vijayalakshmi's sudden glamorous appearance is like making a swan bird eat non-vegetarian food.
Vijayalakshmi used to be the personification of modesty in 'Chennai 28′ and 'Anjade'. Those who bet that there was no scope for glamour in Agathiyan's 'Ponnuppa idhu' her glamorous performance made them to eat their words. Having got her weight reduced for the film 'Sultan the warrior' she exhibited her glamour side. In the film 'Katradhu kalavu' she has become generous with glamour, they say. She is appearing as an airhostess in the film and she is seen in modern dresses throughout the film.
Having settled for dresses shrunk to three-fourths, all she needed was to learn how to walk. So she enlisted in a private coaching centre for the free style course where she is also learning hip-hop style. "I am a very modest person and only for the sake of cinema I am learning all these things. I have always been a bathroom singer and I want to sing for the cinema.
(For updates you can share with your friends, follow TNN on Facebook, Twitter and Google+)