At UN, UK's Miliband Decries Sri Lankan Bloodbath, IMF Loan Linked, No Resolution – Inner City Press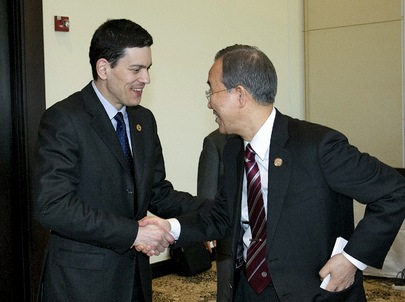 After a weekend of bombing and "bloodbath" in Sri Lanka, the first official to speak out at the UN in New York was UK minister David Miliband. He stopped to speak to the Press on his way into the UN Security Council's meeting on the Middle East. He said he has arranged to speak with Sri Lanka's Foreign Minister Rohitha Bogollagama later in the day. Inner City Press asked if the UK will be proposing a Security Council resolution on Sri Lanka, and for the UK's position on Sri Lanka's application to the International Monetary Fund for a $1.9 billion loan.
  "As you know, the issue has not yet been allowed onto the formal UN Security Council agenda. That's why we'll be having a range of meetings on the side of the formal meeting on the Middle East… merits the attention of the UN at all levels. The Secretary General has already sent his rep to Sri Lanka, the lack of access for the UN and its agencies remains a major concern."
Inner City Press twice followed up on the IMF loan question. Video here.
Pausing as he walked away from the microphone, Miliband returned and said, "sorry, in respect to the IMF, I think you'll find that the issue is not coming up at the IMF today…it's essential that any govt is able to show that it will use any imf money in a responsible and appropriate way, and as I explained in the House of Commons last week, I don't that that's here the case."
Watch this site.
Update of 12:03 p.m. — a staffer of a Permanent Five member said the Sri Lanka meeting will not be in the basement — "there was no room" — but rather in a conference room upstairs. Apparently, the Press will not be able to stake the meeting out. NGOs, OCHA, but neither Russia nor China, says the staffer…
Update of 12:07 p.m. — Miliband and entourage charge into an elevator and head upstairs. The Sri Lanka meeting was supposed to start at noon. Where is Kouchner? Who will attend for the U.S.? Will Ban Ki-moon attend? It's said that Kouchner's and Miliband's stakeout will be sometime after 1.
(For updates you can share with your friends, follow TNN on Facebook, Twitter and Google+)