Outrage grows over Tamil deaths
The UK and France have expressed outrage over the reported heavy loss of life among civilians in Sri Lanka's Tamil war zone at the weekend.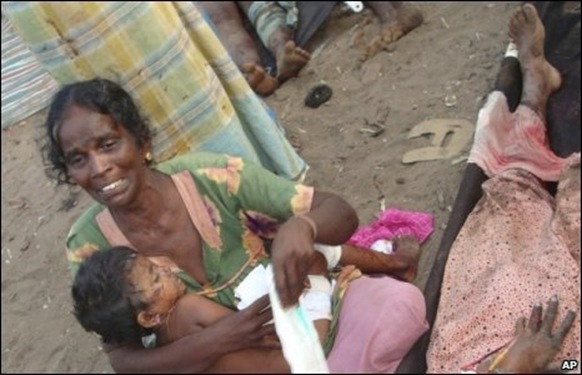 UK Foreign Secretary David Miliband said at the UN in New York he was "appalled" by news of the casualties and demanded an end to "the killing".
Mr Miliband is co-hosting an informal meeting on the humanitarian situation in Sri Lanka.
The UN reports that more than 100 children are among the dead.
It described the situation in northern Sri Lanka, where civilians are trapped inside a government-designated "safe area", as a "bloodbath".
Sri Lanka has objected to the remark and says it will formally complain.
A doctor working in the war zone said more than 430 people had been killed over two days of bombardment.
Tamil Tiger rebels and government forces have blamed each other for causing the deaths through artillery bombardments, the BBC's Charles Haviland reports from Colombo.
The propaganda battle reflects the intensity of the fighting on the ground, our correspondent adds.
'War without witness'
The UK foreign secretary is in New York for a Security Council debate on the Middle East but he and Mr Kouchner are also conducting an informal meeting with non-governmental organisations on Sri Lanka.
"Our message is a simple one, which is that the killing must stop," Mr Miliband said.
"The civilians… trapped… are the victims of what at the moment is a war without witness."
The UK foreign secretary also criticised Sri Lanka for expelling a team of British journalists.
"We need access and transparency in the situation there," he said.
The Tamil Tigers, who have fought for an independent homeland for Sri Lanka's Tamil minority since 1983, have been pushed back by government forces into a tiny pocket of territory.
More than 70,000 people have been killed in the war.
'Malnutrition'
The UN has made a renewed plea for access to the war zone.
The UN's acting humanitarian coordinator in the country, Amin Awad, told the BBC that without a UN presence in the zone of hostilities it was impossible to verify the accusations and counter-accusations.
But he added that innocent civilians were being killed and that was unacceptable.
He urged the Sri Lankan government to grant access to UN humanitarian officials so people could be evacuated and the sick and wounded attended to.
(For updates you can share with your friends, follow TNN on Facebook, Twitter and Google+)