SLA attacks hospital, 47 massacred
Sri Lanka Army (SLA) fired artillery shells killing at least 47 civilians, patients and the Administrative Officer K. Tharmakulasingam Tuesday morning around 8:00 a.m. At least 55 patients sustained serious injuries in the attack on the makeshift hospital which was functioning at Mu'l'li-vaaykkaal junior school. The attack came while around 2,000 wounded patients within the last 3 days were waiting for the ICRC to be transported in the ship. More than 2,600 civilians were killed within the past 3 days in Sri Lankan attacks in Vanni.
Medical Superintendent Dr. Shanmugarajah and his family narrowly escaped from the attack.
ICRC ship to transport 500 of around 2,000 civilians was also scheduled to reach Mu'l'li-vaaykkaal Tuesday.
Mu'l'li-vaaykkaal makeshift hospital photographed after SLA artillery firing on Tuesday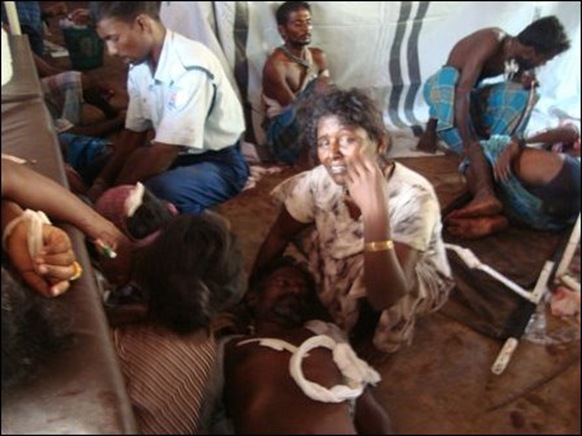 (For updates you can share with your friends, follow TNN on Facebook, Twitter and Google+)