White House protest accuses Sri Lanka of civilian massacre
More than two hundred American Tamils protested in front of the White House in the Lafayette Park Monday 9:00 a.m. till 4:00 p.m., accusing the Government of Sri Lanka for slaughtering more than 3000 Tamil civilians crowded into a 5 sq.km. area during Saturday night and Sunday with the use of heavy weapons including multi-barrel artillery directed into the Safety Zone. Holding banners displaying "Stop the Genocide," the protesters called on President Obama to lead an international effort to establish a ceasefire between the two adversaries, Government of Sri Lanka and the Liberation Tigers.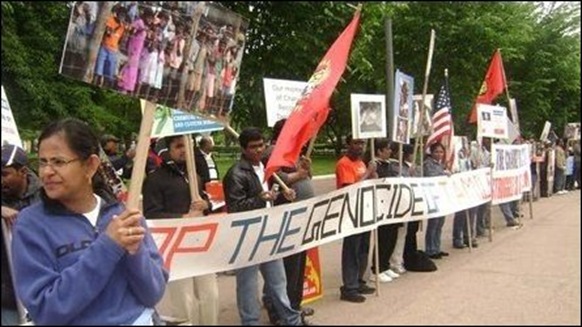 "We are asking the US for a ceasefire," AFP reported quoting Dr. Jeyalingam, who traveled from New York to Washington for the protest, as saying.
The United Nations, which has been accused by rights groups of hiding high casualty figures and satellite evidence of Sri Lanka's use of heavy weapons on civilians, condemned a civilian "bloodbath, and pointed out the slaying by Sri Lanka of more than 100 chidren during the weekend carnage.
Elias Jeyarajah, a co-ordinator of the protest, said the situation in Sri Lanka mandates the evoking of the Right to Protect doctrine and appealed for humanitarian intervention by the Obama administration.
Jeyarajah questioned the lack of concrete action by high level officials of the Obama administration to stop Sri Lanka killings. "Why officials, including Samantha Power, the Senior Director at the National Security Council, whose claim to fame was criticizing the U.S. for failing to respond to the Rwandan genocide, are standing idle while the Sri Lanka horrors are surpassing the horrors of Srebrenica," he asked.
According to estimates provided by a local NGO working inside the safety zone, more than 10,000 civilians have been killed and twice the number injured during the period from January 20th to May 10th by Sri Lanka Army (SLA) shelling and aerial bombardment by the Sri Lanka Air Force.
The organizers said the protest will continue at least till Wednesday.
TamilNet: 12.05.09 White House protest accuses Sri Lanka of civilian massacre
(For updates you can share with your friends, follow TNN on Facebook, Twitter and Google+)