Barack Obama tells Sri Lanka to stop "indiscriminate shelling"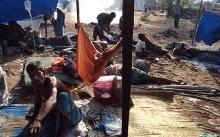 "Without urgent action, this humanitarian crisis could turn into a catastrophe," Mr Obama said, with the United Nations estimating that up to 50,000 civilians may be trapped in the ferocious Sri Lankan fighting.
"So I urge the Tamil Tigers to lay down their arms and let civilians go. Their forced recruitment of civilians and their use of civilians as human shields is deplorable," the US president said.
"I'm also calling on the Sri Lankan government to take several steps to alleviate this humanitarian crisis," he added.
"First, the government should stop the indiscriminate shelling that has taken hundreds of innocent lives, including (in) several hospitals."
Hillary Clinton, the US Secretary of State, called on Tuesday on the warring sides in Sri Lanka to stop fighting immediately and allow trapped civilians to escape the conflict.
In his remarks outside the White House, Mr Obama acknowledged that "with all the big issues going on," Sri Lanka "hasn't received much attention".
Attempting to put that right, the president said "the government should live up to its commitment to not use heavy weapons in the conflict zone," and should grant UN and Red Cross aid workers access to suffering civilians.
"The United States stands ready to work with the international community to support the people of Sri Lanka in this time of suffering. I don't believe that we can delay," he said.
"Going forward, Sri Lanka must seek a peace that is secure and lasting and grounded in respect for all of its citizens," he said.
"More civilian casualties and inadequate care for those caught in resettlement camps will only make it more difficult to achieve the peace that the people of Sri Lanka deserve."
(For updates you can share with your friends, follow TNN on Facebook, Twitter and Google+)