SLA barrage inflicts carnage, makeshift hospital reports disaster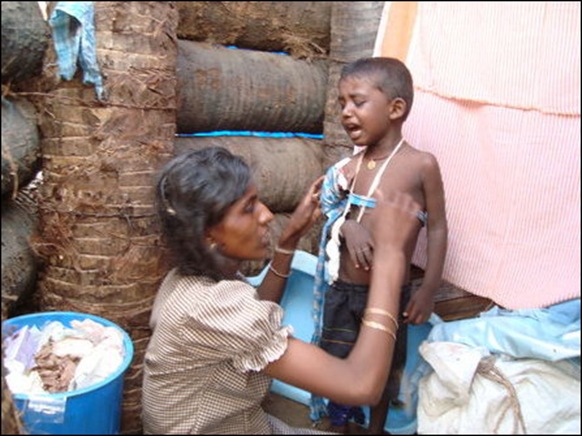 "Looking at the hospital and hearing the civilians cry, you feel only disaster," a key medical staff at Mu'l'li-vaaykkaal makeshift hospital told media Wednesday. More than 100 civilians, including many children, patients, a medical staff, voluntary doctor and an ICRC worker, were killed in Sri Lanka Army (SLA) artillery attack that targeted the hospital premises which is a junior school and the surrounding area which comprises many tarpaulin huts. The hospital is struggling with few medical staff as the medical facility has become a prime target for the SLA which has targeted it for the third time within 5 days. Civilians are struggling with starvation and live under bunkers as bullets fired by the SLA from two coastal ends were whizzing across the so-called No Fire Zone, which has been made into a killing field by the SLA, which completely disregards Geneva Conventions.
Many of the victims are children, the doctors said. Around 40 of critically wounded on Wednesday were children.
No reports were available on the casualties outside hospital premises as the road remained congested with vehicles moving southwards amid shelling and gunfire over their heads. Initial estimates varied from 200 to 500 killed within the past 24 hours.
There are more than 2,000 seriously injured inside the safety zone. Around 1,000 of these patients are to be treated by the hospital urgently, but there are no medicines, the doctors said. 250 of the critically wounded had to be treated on Wednesday. Only a few were treated as the SLA barrage destabilised the hospital, forcing the medical staff and patients to seek shelter under bunkers.
Many of the wound have to die before the ICRC ship manages to evacuate them. The ICRC ship returned to the Trincomalee port empty for the second consecutive day as heavy fighting prevented the evacuation of the wounded. The vessel was also unable to unload some 25 MT of food and other essential items.
30 of 100 dead bodies were identified and taken over by the relatives.
The volunteer doctor killed was identified as Senthilkumaran. A hospital staff, Gopalakrishnan, was also killed. The ICRC worker who was slain was identified as Myuran Sivagurunathan. His mother was also killed in the shelling by the SLA.
There are still 75 dead bodies, both identified and not identified, in the vicinity of the makeshift hospital. Some of the relatives have said they are unable to take over the dead bodies under the prevailing circumstances.
Ambulances were also destroyed in the attack.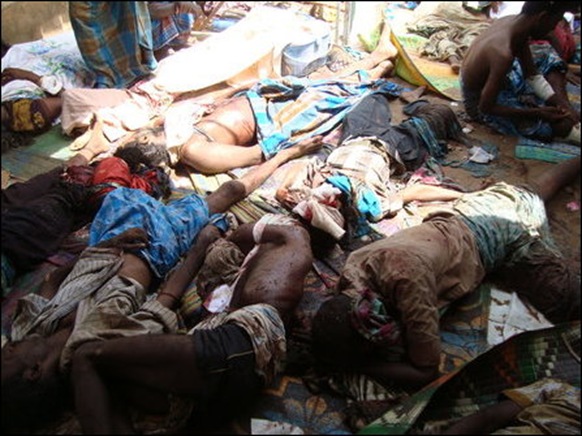 (For updates you can share with your friends, follow TNN on Facebook, Twitter and Google+)