U.N. Security Council to meet formally on Sri Lanka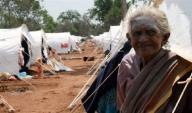 The U.N. Security Council will hold its first formal session on the plight of civilians in Sri Lanka on Wednesday, a move diplomats said could increase pressure on government forces to stop shelling a zone where tens of thousands of people are trapped.
Hundreds were reported killed on Sunday and Monday in artillery barrages as troops attacked a narrow strip of land controlled by Liberation Tigers of Tamil Eelam (LTTE) rebels, who look set to lose a 25-year war.
The council, which has held several informal meetings on Sri Lanka without taking any action, was due to start its session at 3 p.m. (1900 GMT).
French U.N. Ambassador Jean-Maurice Ripert said he and other Western envoys told the Security Council behind closed doors that they would like the 15-nation panel to issue a formal statement with a number of demands.
"We said that we wanted the council to adopt today, if possible, a formal text condemning what is going on, expressing serious concern about the situation, condemning of course the LTTE (and) … asking the LTTE to surrender," he said.
It would also urge "the government of Sri Lanka to stop the shellings, the heavy shellings and the bombings and to allow the humanitarian workers of the U.N. and the U.N. agencies, of NGOs, to access the (refugee) camps," he told reporters.
Council diplomats said privately that it would not be easy to get the council to agree the Western draft statement in light of the sharp divisions on Sri Lanka. Russia, China, Libya and Vietnam strongly oppose involving the council on an issue they consider an internal matter for Colombo.
Sri Lanka's government denies using heavy artillery against the shrinking strip of land where the Tamil Tigers are trapped along with tens of thousands of civilians, who U.N. officials say have become human shields.
Ripert said there were now more than 200,000 internally displaced refugees in camps outside the tiny conflict zone.
He added that the draft statement, penned by France, Britain and Austria with the backing of the U.S. delegation, would also support the intention of U.N. Secretary-General Ban Ki-moon to go to Sri Lanka at the earliest possible date.
Ban said on Monday he was appalled by the reports of heavy civilian casualties.
The council was also due to discuss another divisive issue — an independent inquiry on damage done to U.N. facilities by Israel during its January war against Hamas militants controlling the Gaza Strip.
(For updates you can share with your friends, follow TNN on Facebook, Twitter and Google+)