MILITARY SAYS V-DAY AT HAND
The military said yesterday it was only a matter of time before the humanitarian operations in the Mullaitivu area was completed with the remaining civilians trapped in the 'new safe zone' being freed and the area captured in a few hours.
A ground official told Daily Mirror that troops of the 58-division were moving from the north to the 'new safety zone' and would soon link up with the troops of the 59-division moving in from the south. "The two divisions are separated only by some 1.5 kilometers.
The two divisions are approaching the 'new safe zone' along the beach amid heavy resistance from the cornered LTTE.
The Defence Ministry said soldiers had reached the final phase of their hostage rescue mission with Thursday's opening up of an escape route for the final group of hostages held in Vellamullivaikkal.
By last evening, some 1,000  civilians had crossed over to cleared areas despite the LTTE firing at them.
The 53-division advanced along the Nanthikadal lagoon bank while the 58-division crossed the open coastal terrain amid heavy LTTE shelling and machine gun fire.
"The manoeuver is a success, as a large number of hostages made their way to government-controlled areas across the southern front," the Ministry said.
The United Nations estimated that about 50,000 civilians were still trapped in the 'new safe zone' and that there was no communication with government doctors working inside the area.
"We have no communication with government Doctors since a huge explosion on Thursday night," a UN official said and added that the UN was concerned about the fate of the doctors.
A military official said that until yesterday evening smoke from the explosion was visible and the military believed a LTTE fuel storage facility might have exploded.
With the explosion all the radio communications within 'new safe zone' had been broken down.
The military believes that the explosion might have damaged or destroyed the radio communication base.
The pro-LTTE TamilNet website said 'the entire safety zone area is covered in smoke since the early hours of Friday as shelling by the Sri Lanka Army was destroying all the structures within the narrow strip of coastal land.
It charged that people were dying without water and food as gunfire by the army was reaching from all the directions with a huge number of casualties.
The Defence Ministry also said that LTTE was using white phosphorous as a weapon in reprehensible attacks at both advancing security forces and hostages fleeing from the LTTE.
It said 58-division troops advancing along the A-35 main road, south of Rektavaikkal have recently uncovered a large haul of improvised phosphorous bombs.
Meanwhile, the army headquarters said that a massive crowd of about 10,000 escapees, lined up in the 53 Division – held Vellamullavaikkal area are being now screened and subsequently facilitated by the troops, as this report was filed.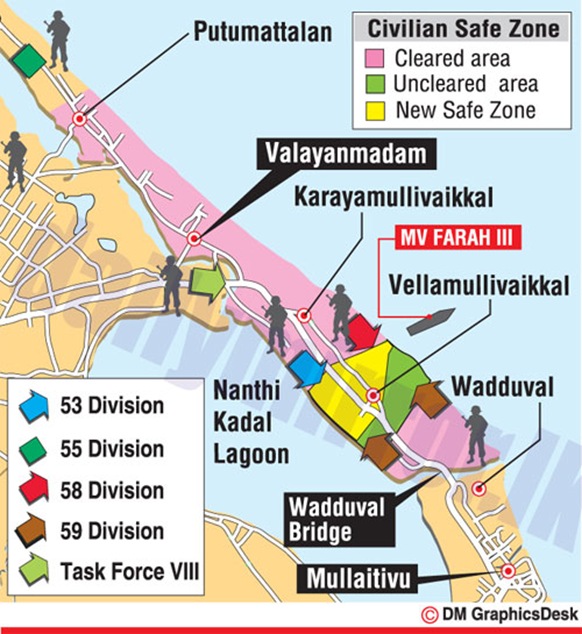 (For updates you can share with your friends, follow TNN on Facebook, Twitter and Google+)