NYT highlights satellite evidence of Sri Lanka's criminal culpability
 Reproducing satellite imagery and analysis produced by the Washington D.C. based American Association of Advancement of Sciences (AAAS), New York Times in the Thursday edition said the images "show dozens of structures that appear to have been destroyed between last Wednesday and Sunday, and multiple craters that appear to reflect the impact of heavy weaponry," pointing to AAAS analysis. During the said period, local workers reported heavy shelling by the Sri Lanka Army (SLA) killing more than 1200 refugees.

"The association did not place blame for the possible bombardment in its report. But, Lars Bromley, a project director with the association, said that although artillery could be hidden, the preliminary analysis did not show big artillery pieces in the rebel-held zone," the NY Times article said.
"The government [of Sri Lanka] has denied shelling the area where an estimated 50,000 civilians remain trapped and said the rebels were behind the shelling, a claim widely disputed by human rights groups and foreign governments," the paper said adding its voice to the criminal culpability of the Sri Lankan State to indiscriminate bombing of unarmed civilians.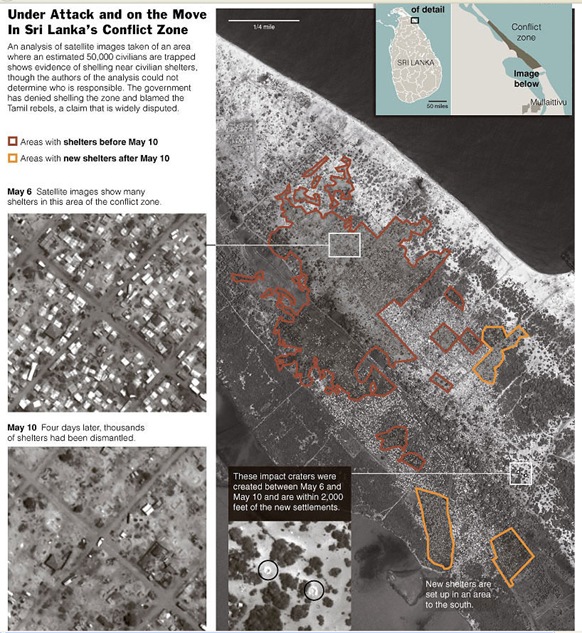 Safety Zone Satellite Map (Courtesy: NYT using AAAS Map)
(For updates you can share with your friends, follow TNN on Facebook, Twitter and Google+)