Sri Lanka army in final stage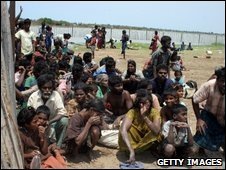 Sri Lanka's army says it is in the "final stage" of operations against the Tamil Tigers with troops just 1.5km short of "dominating the whole coast".
President Mahinda Rajapksa was quoted as saying that all trapped civilians would be "rescued from rebel control" within two days.
The government has rejected international calls for a truce.
The United Nations is sending a new envoy to discuss the crisis, but says a bloodbath "seems to be inevitable".
UN spokesman Gordon Weiss told the BBC that the next 24 to 48 hours would be critical.
"We have been warning about a bloodbath for many months and as the battle has reached this culmination it has become a truly terrible situation for civilians caught inside," he said.
Mr Weiss said the Sri Lankan military has consistently said it will complete what it believes is the final phase of the war and that there did not appear to be "any end except the end game".
He also said the UN had lost contact with the two doctors who had been providing information on casualties in conflict zone.
The International Committee of the Red Cross (ICRC) has called the crisis an "unimaginable catastrophe".
Lagoon
The defence ministry website says: "The expected link up of the 58 and 59 Divisions, who are merely 2km (1.4 miles) apart on the coast will mark the total liberation of the coastline."
It said more than 3,000 civilians were able to wade to safety across the Nanthikadal lagoon on Thursday.
The pro-rebel TamilNet website accused the army of renewed shelling of civilians, with hundreds "being killed and maimed in the carnage caused by the army".
Reports from the war zone cannot be verified as no independent journalists are allowed there.
Tens of thousands of Tamil civilians are thought to be still trapped in the war zone.
Sri Lankan government spokesman Anusha Palpita was quoted as saying by the AFP news agency on Friday: "The president assured that within the next 48 hours the thousands of Tamil civilians will be freed from the clutches of the Tamil Tigers. All territory will be freed from Tiger control."
The United Nations says it is sending the secretary general's chief of staff, Vijay Nambiar, to press for an end to the fighting.
Mr Nambiar is returning to Sri Lanka a month after he met President Rajapaksa but failed to secure access to the war zone for humanitarian teams.
The UN secretary general's spokeswoman Marie Okabe said Mr Nambiar would raise the fate of trapped civilians.
"The secretary general has urged the government of Sri Lanka to explore all possible options to bring the conflict to an end without further bloodshed," Ms Okabe said.
But Mr Weiss told the BBC it was not clear whether Mr Nambiar would arrive in time to negotiate the prevention of many more deaths.
The authorities and the rebels blame each other for civilian deaths.
(For updates you can share with your friends, follow TNN on Facebook, Twitter and Google+)