India's Congress Party Heads for Decisive Victory in Elections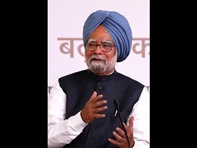 Indian Prime Minister Manmohan Singh headed for a decisive election victory, giving him a freer hand to direct an economic recovery in the world's largest democracy.
Singh's Congress party and its allies led in 231 of 519 seats where the tally has started, according to the Election Commission's Web site. The opposition Bharatiya Janata Party's alliance was ahead in 132 constituencies.
Singh, 76, is set to retain power without needing the support of communist parties, his main ally in 2004, which tried to bring down the government last year. Congress supporters burst firecrackers outside party president Sonia Gandhi's New Delhi house, chanting "Jai Ho," a victory slogan from the Oscar-winning movie "Slumdog Millionaire."
"This is an unequivocal vote for Congress," said Ashis Nandy, a political analyst at the New Delhi-based Centre For The Study of Developing Societies. "The government will not be hamstrung by the 19th century slogans of the communists in carrying out their economic policies."
For the BJP, led by 81-year-old Lal Krishna Advani, the likely defeat may force it to temper an ideology that places Hindu values at the center of Indian culture and life. The party built itself into a national force from the late 1980s with a campaign to construct a temple on the site of an ancient mosque.
"The BJP may try and shed its fanatic fringe," Nandy said. "Let's hope so, though some people will never learn."
Election Marathon
Today's count of some 430 million votes is the culmination of a five-week election, requiring 834,000 polling stations from the Himalayas to tropical islands in the Bay of Bengal. As many as eight million people, half of them security personnel, organized the election.
Indian President Pratibha Devisingh Patil will probably invite the party or alliance that wins the most seats in parliament to prove its majority and form the government.
"We are confident that we will again form the government," said Oscar Fernandes, a senior Congress leader. "People voted for our work, for the development we have done."
Congress campaigned on a pledge to supply cheap rice and wheat in a nation where 828 million people subsist on less than $2 a day, according to the World Bank.
India's $1.2 trillion economy, buffeted by the global recession, may grow 6 percent this year, the weakest pace since 2003, according to the central bank.
Foreign Investment
Singh will be able proceed with plans to ease foreign investments in insurance and banking should he form a government without Communist participation.
Stocks rose for a 10th week, the longest winning streak in almost three years, before the election results. Singh and the communists parted ways in July after four years of wrangling on issues ranging from allowing retailers including Wal-Mart Stores Inc. into the country to increased foreign ownership of insurers.
With Congress close to winning 200 seats in the 543-seat parliament on its own, the role of regional allies in forming the government will be diminished.
If Singh can bring on board parties like the Samajwadi Party, which saved it in a confidence vote last year, and rising powers in the eastern states of Orissa and Bihar, he may be able to govern without the communists.
Congress appeared to have made strong gains in Rajasthan, Punjab and Uttar Pradesh, while its key ally in southern Tamil Nadu state was performing far better than expected.
Strong Leadership
"The need of the hour is strong leadership to tackle the economic downturn and the serious foreign policy challenges in the neighborhood," said D. H. Pai Panandiker, president at RPG Foundation, an economic policy group in New Delhi.
An intensifying conflict between the army and Islamic militants in neighboring Pakistan, which the U.S. hopes India will play a leading role in confronting diplomatically, tops the foreign policy agenda. India froze ties with its nuclear-armed neighbor after last November's attacks on Mumbai by 10 gunmen Singh's government says were members of Pakistan-based militant group Lashkar-e-Taiba.
(For updates you can share with your friends, follow TNN on Facebook, Twitter and Google+)