Tamil civilians 'out of war-zone'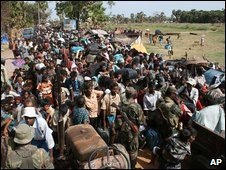 All the civilians who were trapped in Sri Lanka's northern war zone have escaped, military officials say.
Army spokesman Brig Udaya Nanayakkara said some 50,000 ethnic Tamils had fled the area over the past three days. The military claims cannot be verified.
He said earlier 70 Tamil Tiger (LTTE) rebels had been killed trying to escape from a tiny enclave where they are holed up in the island's north-east.
The army says it has cut off rebel access to the sea.
President Mahinda Rajapaksa has claimed victory in the 26-year war.
The BBC's Charles Haviland in Colombo says that, if corroborated, news that the war-zone was now free of civilians would be welcomed by the international community. A UN spokesman here told the BBC: "We're relieved if it is so."
For months, tens of thousands of Tamil civilians have been trapped in the war zone, vulnerable to bombardments as the government and Tamil Tiger rebels fought bitterly. The United Nations says they were being forcibly kept there by the rebels and that more than 6,000 have been killed since January.
Like all accounts from the war zone, the numbers cannot be independently verified, and official figures have been questionable.
Earlier this week the government said there were up to 20,000 trapped people in the war zone; now it says 50,000 have escaped within 72 hours.
The UN has told the BBC the army figures reinforced its view that Sri Lanka's authorities were ill-prepared for the huge influx of internally displaced people.
Refugee camps inland are already badly strained accommodating the huge numbers of those who have fled the conflict.
Rebels 'cornered'
Both the UN and Western governments have called on Sri Lanka to exercise restraint in its pursuit of a military victory over the Tigers.
(For updates you can share with your friends, follow TNN on Facebook, Twitter and Google+)