White House protest to continue into next week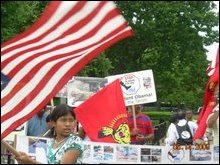 The protest rally which started this Monday, in front of the White House along the closed section of Pennsylvania Avenue in Washington D.C., has been continuing for the last six days, and the organizers said, due to the unprecedented humanitarian disaster unfolding in Sri Lanka where the State's Army is slaughtering thousands of civilians, the organizers said, the protest will continue into the next week. Assembled American Tamils urged U.S. to act immediately to prevent a whole sale massacre of more than 150,000 civilians still holed up in the Safety Zone in Sri Lanka's north.
Pointing out the statement of Selvarasa Pathmanathan, the LTTE's head of International Relations, in a statement issued Saturday, that "[w]e [the Tigers] heed the call by the US President and are prepared to take measures that will spare the life of our people," the protesters appealed to Obama as the only hope to stop the killing.
While the situation is dire, and mass scale killing of civilians is imminent, the United Nations and the Governments of powerful nations appear yet unwilling to intervene decisively.
TamilNet: 17.05.09 White House protest to continue into next week
(For updates you can share with your friends, follow TNN on Facebook, Twitter and Google+)