Tamil protest shuts Westminster Bridge – ITN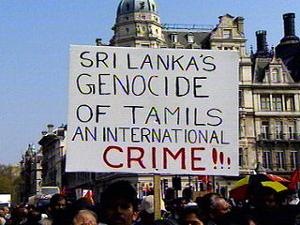 A busy central London bridge has been shut by a pro-Tamil sit-down demonstration, causing traffic chaos around the Houses of Parliament.
On Sunday, the rebel Tamil Tigers conceded defeat in their bloody 25-year conflict with Sri Lanka's government which has claimed an estimated 70,000 lives.
A day later in the UK capital, hundreds of protesters moved en masse at around 4pm to occupy parts of Bridge Street and Westminster Bridge.
Many children could be seen among the crowd, said to number around 2,000, and parents with buggies were present among a sea of flags and banners belonging to the seated demonstrators.
Many of the protesters were wearing white cloth around their heads and arms as a symbol of solidarity with Tamils they say have been left without aid and medical supplies.
Traffic in the area has been diverted and a large police presence has gathered around the protesters with police helicopters circling above Parliament Square.
A London bus and a number of vans cut off by the protest were sitting motionless at the heart of the demonstration.
Protesters have been demonstrating in the Square for a number of weeks to draw attention to the plight of Tamils in Sri Lanka.
No arrests were made during the first few hours of the latest protests despite the major road blockages, Scotland Yard said.
Engineering student Kulan Selvan, 32, from Catford, London, said: "People had felt compelled to mount the sit-down protest in response to the Sri Lankan government's claims that Tamil Tiger leader Velupillai Prabhakaran had been killed.
"I don't know how long people are going to stay on the road today but there is a strong feeling of real anger here. For us the war is not over and we simply do not believe reports that the Tamil leader has been killed.
"We are deeply concerned for the people in our homeland. We believe thousands have been killed. The Sri Lankan government have refused to let the media in so we just don't know how bad it really is there.
(For updates you can share with your friends, follow TNN on Facebook, Twitter and Google+)