PM urges Sri Lanka to give displaced Tamils aid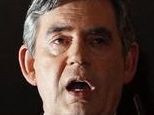 Prime Minister Gordon Brown said Tuesday he had urged Sri Lanka's president to ensure thousands of people displaced by the army's victory over the Tamil Tigers receive humanitarian aid.
Brown said he had spoken to President Mahinda Rajapakse by telephone "in the last day" and also called on him to involve Tamils in an inclusive political future for the country.
"I have offered humanitarian aid but asked him to ensure that displaced persons are given the humanitarian aid that they need urgently," Brown said at his monthly news conference.
"This is potentially a humanitarian problem of very high proportions, (there are) large numbers of displaced persons.
"I believe it is the duty of the Sri Lankan government to show that all the needs of all the people are being taken into account."
Brown added: "I've told him (Rajapakse) that he must begin a political process for involving the Tamil people and other communities in his country."
Protesters demonstrated outside the British High Commission in the Sri Lankan capital Colombo on Monday, accusing Britain of supporting the Tamil Tiger rebels.
UN relief agencies have protested that access to some government-run camps housing tens of thousands of displaced civilians had been restricted in recent days and demanded that the camps be "demilitarised."
(For updates you can share with your friends, follow TNN on Facebook, Twitter and Google+)